Welcome to Contacts Advice! Just for visiting, here is a 15% OFF SITEWIDE – NO MINIMUM Coupon Code @ Vision Pros:
FEB2020
Valid only from Feb 12-16, 2020
*Read all the way to the bottom for your exclusive 20% OFF Vision Pros coupon code
My name is Julie and it's become my mission to help contact lens wearers save as much money as possible.
That's why I started Contacts Advice. I regularly compare the price of your contact lens brand across all the top contact lens websites to find you the lowest price!
For Small Purchases
Check Contacts Advice!
The results of my price research is always publicly available at Contacts Advice's homepage. Most of the time, consulting my Lowest Price Contact Lens Chart will be the best way to save on your contact lenses.
Just look at how much the prices vary from contact lens website to website!
However, for large purchases of certain brands a coupon code may be better. This is usually the case for yearly supplies of daily contact lenses.
For Big Purchases
Use This Vision Pros Coupon Code!
When you purchase a year-supply of contact lenses, you can easily rack up a bill that's well over $500. This is especially true for daily-disposable contact lenses.
That's why I've collaborated with industry representatives to bring you a Vision Pros coupon code for 20% OFF SITE-WIDE on all purchases over $500.
For example, when purchasing a 1-year supply of the extremely popular Dailies TOTAL1 daily-disposable contact lenses, you would be saving $132.70!
If you wear the multifocal version, Dailies TOTAL1 Multifocal, then the you're really really going to need this coupon code. You'll save $187.20 on a 1-year supply!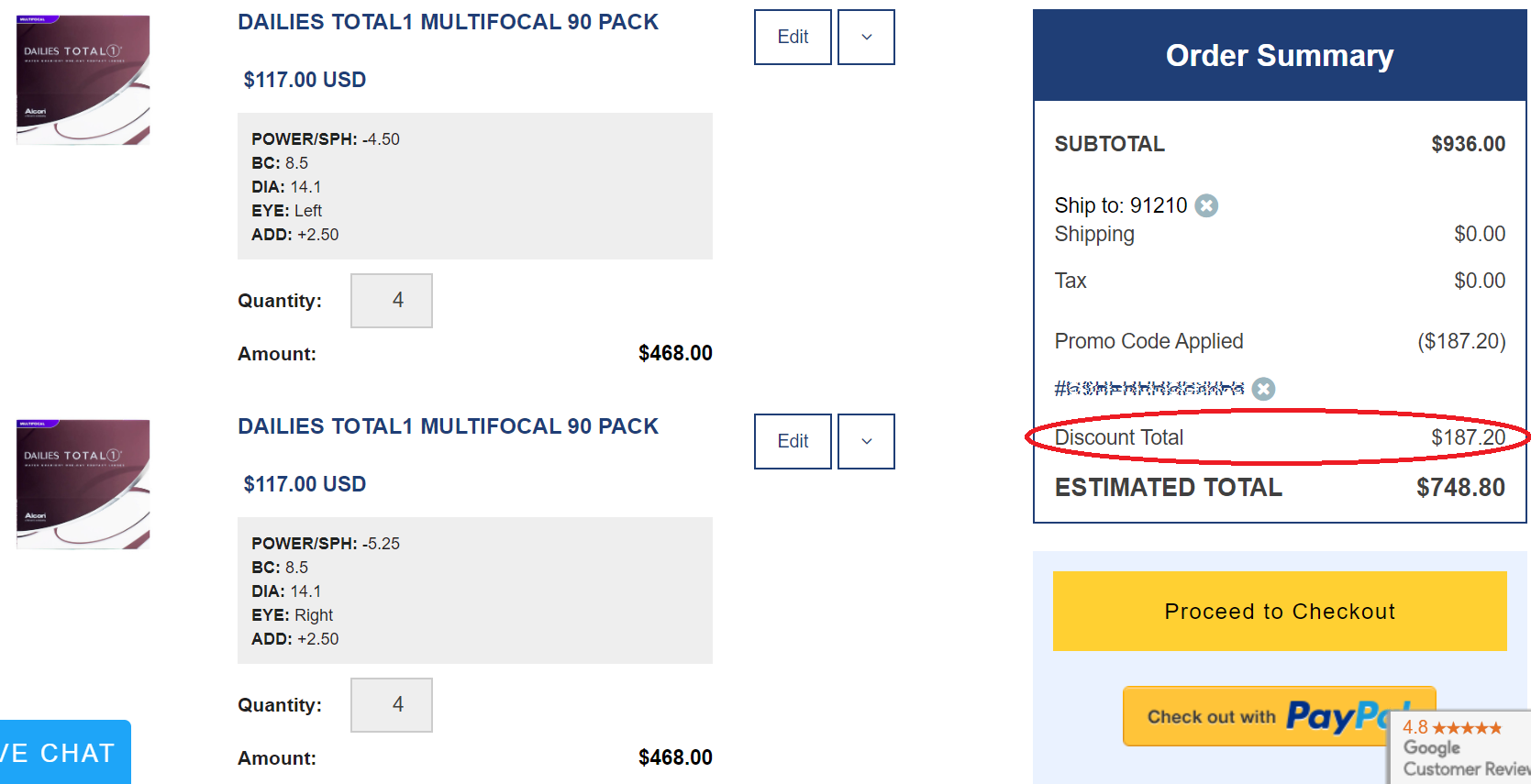 How To Activate Your Vision Pros Coupon Code:
Add your contact lenses to your shopping cart
Click on the button in the top right corner of the page labelled "View Cart"
Before you click on "Proceed to Checkout", click on the drop-down menu titled "Have a Promo Code?"
In the text field type in "CYBERPROS20FS" and the click on "APPLY"
Your order total will be automatically adjusted
*Note: this Vision Pros promo code will only work for orders above $500.
Remember that if you are not making a big purchase, the best way to save money on contact lenses is to locate the lowest price for your brand using Contacts Advice's Lowest Price Chart.
Enjoy the savings and visit again soon!
Cheers,
Julie