If you wear contact lenses, you may have noticed that the numbers on your contact lens prescription are not the same as the numbers on your prescription for glasses. No, this is not a mistake.There is a perfectly good reason for this, and in this article, I will explain why and how the numbers that determine the power of your contact lenses are different than the numbers that make up your glasses prescription.

Difference Between Contact Lens And Glasses Prescription
So why are they different anyway? The simple reason is because the distance between any type of lens and your eyes affects the effective focusing power of those lenses. Glasses and contact lenses are both different types of lenses, and each are used at different distances from the eye.
When your eye doctor measures your prescription, he/she is placing different lenses in front of your eyes and finding the lenses that help you see best. There is a standard distance from your eye at which all these lenses are being shown during a standard glasses prescription check. Therefore, the prescription that you get is for lenses that sit a certain distance away from your eyes. That standard distances is about 12 – 14mm.
As we all know, there is no distance between contact lenses and your eyes. Because contacts are much closer to your eyes than the lenses in glasses, they will focus light differently than glasses, and therefore must be adjusted in order for you to see clearly and comfortably through them.
Before The Conversion
Eye doctors go through several steps to make sure that prescriptions are properly converted before fitting anyone with contact lenses. This generally involves…
Using a conversion chart (although many eye doctors can do the calculations in their head)
Adding/subtracting positive and negative numbers
Taking the 'absolute value' of numbers
Rounding numbers up or down based on their knowledge of what's available in contact lenses and what's not
Only  eye doctor and other eye care professionals are qualified to covert your glasses prescription into a valid prescription for contact lenses.
Vertex Conversion Chart
A vertex conversion chart is a handy tool in the conversion process. It provides the results of a rather complex formula for all the possible 'Sphere' values that one could find on a prescription for glasses. A chart like this removes the need to actually work through the formula every time. It can be used to quickly look up the answers.
A Vertex Conversion Chart For 'Sphere' And 'Cylinder'?
A traditional vertex conversion chart is a useful tool, but it is only a partial resource as it does not help one convert the 'Cylinder' number on glasses prescriptions. There are too many 'Sphere' and 'Cylinder' combinations to fit in a single chart, which is why I decided to create a series charts that can be used to easily look up the conversion for any 'Sphere' and 'Cylinder' combination.
I created these charts to save time when performing calculations on high or complicated prescriptions. Instead of having to break down the prescription and draw a power cross, followed by looking up several numbers on a traditional vertex conversion chart, then adding and subtracting the results, and finally putting the prescription back into the correct format, using these charts I was able to simply look up the combination that I need and see the answer right away.
If you routinely do back vertex calculations, feel free to use my charts as a reference, but remember that they are only useful in performing back vertex calculations. They do not provide contact lens prescriptions.
==> Click Here To Access My Vertex Conversion Charts For Both Sphere And Cylinder Combinations <== 
The Conversion Process
Below is a general description of how the conversion process happens. Please note that there are many additional factors that contribute to the final result. Only your eye doctor has access to these additional factors.
Converting the 'Sphere' number
The first number to appear on an eyeglass prescription is the 'Sphere'. This number denotes whether you are nearsighted (the 'Sphere' number will be negative) or farsighted (the 'Sphere' number will be positive).
If the absolute value of the 'Sphere' number is 4.00 or lower, the number is left as is.
If the absolute value of the 'Sphere' number is greater than 4.00, it has to be converted. To convert the 'Sphere' number, a vertex conversion chart is usually used.
First, the absolute value of the 'Sphere' number is located in the middle column of the vertex conversion chart.
If the original 'Sphere' number began with a minus sign, the number directly to the left is the back vertexed 'Sphere' number.
If the original 'Sphere' number began with a plus sign, the number directly to the right becomes the back vertexed 'Sphere' number.
Occasionally the vertex conversion chart will give you a number that ends in .12, .37, .62 or .87. These numbers are not available in contact lenses. This is where eye doctors need to decide whether to round up or down to the nearest .25, .50, .75 or .00 based on different factors.
Converting the 'Cylinder' number
The second number in glasses prescriptions is the 'Cylinder'. Converting this number requires some careful consideration. A simplified explanation would go something like this:
If there is no 'Cylinder' number, the conversion is finished.
If the 'Cylinder' number is -0.25 or -0.50, it is removed in the contact lens prescription. More on this later.
If the 'Cylinder' number is -0.75 or higher, it will either remain the same (if it matches a 'cylinder' that's available in the contact lens brand you're being fitted with) or rounded up or down to the nearest available 'Cylinder' for your brand of contacts.
Available 'Cylinders' are typically -0.75, -1.25, -1.75, -2.25, -2.75, although there are brands that have extended ranges.
If the cylinder number is in between one of the above steps (i.e., -1.00, -1.50, -2.00, -2.50, -3.00), your eye doctor must make a decision as to which available power will work best for you (rounding up or down). Sometimes it is necessary for your eye doctor to have you try on both in order to determine which one helps you see best.
A note about 'Cylinder': If you have 'Cylinder' in your contact lens prescription, you will need to be fitted with a contact lens 'for astigmatism', also sometimes named 'toric' contact lens.
When the cylinder is -0.25 or -0.50
Contact lenses for astigmatism only become available at 'Cylinder' values of -0.75 or higher. So what happens when the Cylinder on your glasses prescription is -0.25 or -0.50? Either 1 of 2 things…
Generally, if the glasses 'Cylinder' is -0.25, it is not included in the contact lens prescription. -0.25 is such a small amount of 'Cylinder' that it does not need to be accounted for in the contact lenses. This causes the 'Axis' number to be dropped from the contact lens prescription as well.
If the cylinder is -0.50, it is still dropped from the contact lens prescription, but in order to compensate for the missing 'Cylinder' eye doctors will adjust the 'Sphere' number. Removing -0.50 'Cylinder' requires a compensation of -0.25 to the 'Sphere' number. This is called taking the 'equivalent sphere' or a prescription.
Is the Cylinder Back-Vertexed?
The Cylinder number itself is never back-vertexed. However, when the 'Cylinder' and 'Sphere' numbers added together yield a value that is higher than -4.00, then that combined value needs to be back-vertexed. To re-isolated the 'Cylinder', the back-vertexed 'Sphere' needs to be subtracted from the back vertexed 'Sphere' + 'Cylinder' combination.
Honestly, it's complicated to explain in just a sentence or two. To learn more about this process, I recommend reading my 4-part tutorial series for students on how to properly convert prescriptions.
Converting the 'Axis' number
In an eyeglass prescription, the 'Axis' number can be any number from 1° to 180°. In contact lenses, the 'Axis' is generally only available in 10° steps. That means that eye doctors have to determine which axis is going to give you the best vision in the contacts.
Due to the unpredictability of the fit of contact lenses for astigmatism, often times eye doctors will have to choose an initial Axis, and then refine it after he/she has seen how the lenses fits the eyes.
The higher the 'Cylinder' number is in a glasses prescription, the more important the 'Ais' becomes. For somebody with a lot of astigmatism, if the 'Axis' is off by even just a few degrees, it can completely throw off the vision. Only qualified eye care professionals can properly assess the fit of contact lenses on your eyes and determine what the best 'Axis' is for your vision.
An Example Conversion
---
Below is an exercise in back-vertexing. It is only meant for practicing the theoretical principles described above.
Did you get the correct answers?
Tutorials
If you're an optician or optometry student looking for supplemental material on how to convert glasses prescriptions to contacts lenses, I have written a fairly comprehensive 4-part tutorial that can help you with this. You can find it in my 'Conversion Resources' or by clicking here.
Using A Contact Lens Prescription Online
Once an eye doctor has issued you a valid contact lens prescription, you can then use it to order contact lenses in stores or online. Depending on the website you chose to buy your contact lenses from, you may or may not have to provide the website with your prescription (depending on the regulations governing the site).
Regardless of whether you have to provide your contact lens prescription or not, it is always extremely important to only use a valid contact lens prescription to order contact lenses. 
Disclosure: Contacts Advice receives compensation from VisionDirect.co.uk for referring customers to them. We chose to feature VisionDirect.co.uk because of their reliable reputation and highly rated reviews. Thank you for your support.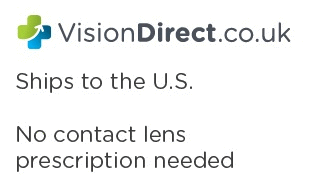 Where Can You Order Contact Lenses Without a Prescription?
U.S. law requires U.S. based websites to verify that you are using a valid prescription to order your contact lenses.
Other countries don't have the same laws and can sell contact lenses without verifying the prescription. VisionDirect.co.uk is a contact lens website based in the United Kingdom that specializes in serving the U.S market.
*Note* I am not a doctor and this is not medical advice. I do not condone ordering contact lenses without a prescription. Please make sure you have been advised by your doctor before using any contact lenses.
*Note* I am not a legal expert and this is not legal advice. Please make sure you are familiar with the laws in your area regarding ordering contact lenses online.
Summary
Now you are more familiar with what goes into converting a prescription for glasses into contact lenses. And as you can see, there are many different things to consider while performing these conversions. One cannot simply apply a general formula to the numbers on a prescription for glasses, as the final results of the contact lens prescription require you to try the lenses on, and for a qualified doctor to assess the fit and vision.
Your contact lens fitting may involve several visits in order to allow you to try the contact lenses out at home/school/work before you purchase them. At the end of your visits, your eye doctor will give you a prescription that you can use to order contact lenses from anywhere they are sold.
By law, your eye doctor cannot neglect to give your prescription. For more information on the laws surrounding this rule, click here.
Where To Find The Lowest Contact Lens Prices
Once you've gotten everything squared out with your contact lens prescription, it's time to start shopping around to get the best price for your contact lenses.
Here at Contacts Advice, I've made the process as simple as possible.
Since I launched Contacts Advice in 2015, my mission has been to save contact lens wearers as much money as possible. That's why I find the lowest prices for every brand of contact lenses so that you never overpay for your contact lenses again.
What Can You Expect From Contacts Advice?
Price comparisons at the top 11 contact lens websites
Lowest price found for every brand
Weekly updates on all prices
Never overpay for contact lenses again!