Product: Acuvue Vita
Manufacturer: Johnson & Johnson
Type: Monthly, Spherical (not for astigmatism)
Available in: 6-pack and 12-pack
There is a new monthly contact lens on the market, and it's called Acuvue Vita by Johnson & Johnson. This is Johnson & Johnson's first ever monthly replacement lens, and their first non-daily contact lens since they launched the Acuvue Oasys line in 2005.
If you have astigmatism, check out my review of Acuvue Vita for Astigmatism here.

Why A New Monthly Contact Lens?
Sponsored Links



Despite the torrent of daily contact lenses in the market in the past decade, monthly contact lenses never lost their popularity.
There was a time when there was concerted effort by optometrists and contact lens companies to convert monthly contact lens wearers over to daily contact lenses. They did this because contact lens researchers were putting out studies that showed that daily contact lenses were safer compared to monthly contact lenses.
What Does The Research Really Show?
It is true that broadly speaking, daily contact lenses are safer that monthly contact lenses. This is because it eliminates the need to clean the contact lenses, a step that many monthly contact lens wearers tend to neglect.
However…
Just because daily contact lenses are safer overall, that doesn't mean that monthly contact lenses are unsafe. It just means that you have you use them as they were intended to be used, which means you have to properly clean them after every wear, and you have to replace them on time.
What it Boils Down To
Monthly contact lenses are less expensive than daily contact lenses, and for the responsible contact lens wearer, they are just as safe.
No matter how good daily contact lenses become, people will always want to have a lower cost option for their contact lenses, and monthly contacts gives them just that.
The End of the Monthly Contact Lens Drought
For many years (roughly between 2008 and 2014), not a single contact lens manufacturer put out any new monthly contact lenses (because they were busy trying to convert everyone to dailies). When they realized that the demand for monthly contact lenses wasn't going away, the began investing into monthly contacts once again.
The first of the new generation of monthly contacts lenses was ULTRA by Bausch & Lomb. Alcon tried to follow suit by re-branding their Air Optix Aqua contact lens to Air Opitx Plus HydraGlyde. And now we have the Acuvue Vita by Johnson & Johnson.
Acuvue Vita
If Acuvue Vita becomes anywhere near as popular as its bi-weekly predecessor, Acuvue Oasys, it will take the market by storm. Over the past decade, Acuvue Oasys has arguably been the most popular contact lens brand in North America.
Features and Benefits of Acuvue Vita
Acuvue Vita is Non-Coated
Johnson & Johnson has made a concrete effort to describe this lens as 'non-coated'. But what does non-coated mean?
Historically, monthly contact lenses have either been coated or non-coated. Contact lens coatings are applied by some manufacturer to help water stick the surface of the contact lenses which keeps them comfortable while they're on our eyes. This is needed when the material chosen for the contact lens does not inherently hold onto water very well.
If the material of the contact lens naturally attracts water, then a coating is not necessary. This is the case with the Acuvue Vita. Johnson & Johnson appears to be stressing this point because coatings tend to get worn down throughout the month, making the coated contact lenses less and less comfortable as the month goes by.
If the lens is non-coated, then it is more likely to remain comfortable throughout the month.
Acuvue Vita's HydraMax Technology
Every new contact lens has some sort of proprietary technology. This is what contact lens manufacturers use in order to make their brand unique. In the case of Acuvue Vita, it's called HydraMax technology.
Contact Lens manufacturers tend to be a little dodgy when it comes to explaining how their proprietary technologies (such as HydraMax) work. Instead of a real explanation, it usually just puts out a short paragraph stuffed full of fluff keywords that sound good. For example:
On the other hand, Johnson & Johnson does offer a very brief explanation that indicates that it has something to do with the lipids in the tear layer.

They also mention this in their promotional video for Acuvue Vita:
Sponsored Links
Other Benefits of Acuvue Vita
UV Blocking Contact Lens
Like all other Acuvue products, Acuvue Vita has superior UV blocking compared to other brands. In the monthly category, it is the only brand to offer Class 1 UV blocking which means it blocks 93% of UVA and 99.9% of UVB rays.
UV blocking contact lenses offers protection against many of the harmful effects of UV light on the tissues of the eyes. Among other things, prolonged exposure to UV light can make you susceptible to cataracts, macular degeneration, freckles, abnormal growths, etc.
Contact lenses that block UV are not any more tinted than contact lenses that do not. They are perfectly clear. It is the properties of the material of the contact lens itself that provides the UV protection.
Acuvue Vita's Infinity Edge Design
When contact lenses irritate the eyes, it is often because of the edges of the contact lenses. That is because the edges is where the most interaction happens between the contact lenses and your eyelids. Every time you blink, your eyelids must travel over the top of the contact lens. If the edge of the contact lens is blunt, your eyelid will feel it as it passes over. If the edge is designed with a gradual taper, your eyelid is much less likely to feel it.
The only information I could find on what makes the Infinity Edge design different than other brands is this graphic.
It doesn't tell you much, and every company likes to brag that their contact lenses have the best edge design by showing similar graphics to the one above.
Acuvue Vita Price
Acuvue Vita is very reasonably priced for a monthly lens of this quality. For a box of 6 contacts, the price ranges from $45.49 – $58.95 depending on what site you visit.
Compared to its main competitor, Bausch & Lomb ULTRA which is typically $60/box, Acuvue Vita is slightly less expensive.
Compared to Acuvue Oasys, Acuvue Vita is a superior lens, and it's also less expensive. The reason for this is that Acuvue Vita is a monthly lens, whereas Acuvue Oasys is a 2-week lens. Lenses that are replaced more often always cost more.
Is Acuvue Vita Better Than Other Brands?
For a lot of people, Acuvue Vita will be better than many other brands out there. But is it the best monthly lens on the market? That is impossible to say, as everyone's experience with contact lenses is different.
Every time a new contact lens is launched, the company that manufactured it will put out results of make-shift clinical studies that 'prove' that it's the best lens on the market.
Here are the results are such 'studies':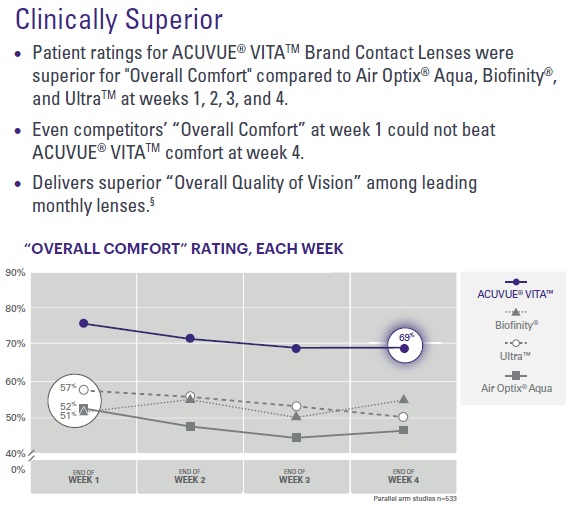 These results should be taken with a huge grain of salt. They are always conducted by the company that is trying to sell the lenses, never an independent third party, creating a giant conflict of interest.
What's My Opinion?
In my opinion, Acuvue Vita is a very high quality and highly comfortable monthly contact lens. It has a huge advantage over most of its competitors, including its own predecessor Acuvue Oasys. To date, Acuvue Vita is the result of the latest contact lens technology. Remember that other than Bausch & Lomb ULTRA, all other monthly contact lenses are from 8 years ago or more. A lot has changed in that time.
Sponsored Links