The website netdoctor.co.uk recently released an article titled "Myths about contact lenses you need to stop believing". In this article, I will review these common contact lens myths, and give you their take on it as well as mine.
The Myths
1. There's an age limit
netdoctor.co.uk perspective:
No
Contacts Advice:
Agree
Elaboration:
Netdoctor.co.uk correctly states that there are no strict age limits for contact lenses. Obviously, nobody would try to slap contact lenses on a 1 year old, so if you want to get really technical, then I suppose there is a limit, but practically speaking there really isn't.
There's no absolute upper age limit, although contact lenses do become more and more difficult to wear as you progress through your 40s, 50s and onward. The reason for this is a process called presbyopia.
Presbyopia causes your eyes to have increased difficulty focusing on near objects, requiring you to use a different prescription for near viewing compared to distance viewing. For those who were glasses, that usually means reading glasses, progressive, or bi-focal lenses.
For contact lens wearers, this means switching to something known as multifocal contact lenses, throwing reading glasses over top of regular contacts, or simply putting up with blurry near vision.
If we're talking about extremes again, it can become very difficult physically for some elderly people to insert and remove contact lenses as the dexterity and fine motor skills start to decrease in their fingers.
Regarding lower age limits, I have written an entire article on the topic, which you can read here. But in short, the maturity level and motivation of the child is more important than the age when it comes to using contact lenses.
2. Only certain people can wear them
netdoctor.co.uk perspective:
Incorrect
Contacts Advice:
Disagree
Elaboration:
In Netdoctor.co.uk's article, they seem to suggest that because of the advances in contact lens technology, anyone can wear contact lenses, regardless of what prescription they have.
If your prescription doesn't contain any astigmatism, then I would agree. For people without astigmatism there's virtually nobody that falls outside of the limits of what contact lenses can correct for.
But for people with astigmatism, the limitations are real for some. The strength of the astigmatism found in a prescription is represented by the 'cylinder' power. The higher the 'cylinder', the more astigmatism you have. If the 'cylinder' number is higher than -3.25, it will be almost impossible for you find contact lenses that will allow you to see properly.
Furthermore, there are many more reasons other than your prescription that might make you unable to wear contact lenses.
Other than prescription limitations, the main reason why some people cannot wear contact lenses is chronic dryness. If your eyes are dry to the point where your cornea begins to show changes, you will not be able to safely wear contact lenses.
And although the vast majority of people can be trained to insert and remove contact lenses, there are some people who just cannot tolerate anything touching their eyes. The thought of wearing contact lenses for these people is little more appealing than screeching nails on a chalkboard.
But I don't want to leave you with the wrong impression. There are many more people that can wear contact lenses compared to those who can't. Nowadays, people who want to wear contact lenses but can't, make up only a very small percentage of people interested in contact lenses.
3. They're difficult to use
netdoctor.co.uk perspective:
False
Contacts Advice:
Agree
Elaboration:
If you receive proper training and instructions on how to insert and remove contacts, as well as how to clean and care for them, you'll discover that there's really nothing to it.
In my experience, it is exceedingly rare that someone sets out to learn how to use contact lenses, and it is unable to do so.
4. They fall out easily
netdoctor.co.uk perspective:
False
Contacts Advice:
Agree
Elaboration:
Although it's not completely unheard of for lenses to fall out, when they do it's usually because there's something wrong, such as your eyes being too dry, or the contact lens not fitting properly. If you've been properly fitted for your contacts by your optometrist, you should rarely encounter this problem.
5. They can cause eye infections
netdoctor.co.uk perspective:
It's extremely rare.
Contacts Advice:
Agree
Elaboration:
The reality is that this is not a myth. Contact lenses can cause eye infections, but it's not common, and tends to happen to people who abuse and neglect proper contact lens procedures.
To prevent the likelihood of infections from contact lenses, always clean your contact lenses properly. Keep in mind that not all contact lens solutions are equally effective. If you haven't done so already, it might be a good idea to talk to your eye doctor about hydrogen peroxide based solutions.
Always wash your hands before you touch your contact lenses.
Avoid exposing your contact lenses to non-sterile sources of water such as tap water, pools, lakes, oceans, etc. Commonly, when contact lens wearers spend a night away from home, they forget to bring with them their contact lens solution. When you realize this late at night, depending on where you are you may not be able to go out and purchase new cleaning supplies.
In this situation, it is tempting for some to store their contact lenses in tap water overnight to prevent them from drying out. The risk of doing this is that it exposes your contact lenses to microorganisms found in the water. If those microorganisms are absorbed into you contacts, they will be transferred to your eyes the next time you wear your contacts.
When caught in this precarious situation, your best options are either to discard your contact lenses, or to keep them in your eyes until the next morning when you can go out and purchase proper cleaning supplies. Although not usually prescribed in this way, most silicone hydrogel contact lens brands are approved for a few days of overnight wear.
*Note: I am not condoning the practice of sleeping in contact lenses. Do so at your own risk.
Another important thing to keep in mind is to always replace your lenses on time. Do not extend your contacts longer than they are designed to last. If you have difficulty keeping track of when your contact lenses need to be replaced, trying using reminder systems, or even switching to daily disposable contact lenses.
6. They can get stuck behind your eye
netdoctor.co.uk perspective:
False
Contacts Advice:
Agree
Elaboration:
Yes, lenses can slide up under your upper eyelid, but they cannot travel to the back of your eye, and they certainly cannot get stuck there. For a complete explanation regarding why this is impossible, read my article There's a Contact Lens Stuck In My Eye – What Do I Do?
7. They are expensive
netdoctor.co.uk perspective:
They are less expensive than they use to be.
Contacts Advice:
You need to know where to find the lowest price for your brand.
Elaboration:
One of the main reasons why contact lenses are less expensive now than they use to be, is because the sale of contact lenses use to be restricted to eye doctor's offices. Now, the market has opened up and you can get contact lenses in a number of different outlets, including online.
However, now that contact lenses are available in so many places, it's hard to know if you're getting a good price, because it's so time consuming to do price-comparisons of all the different places and sites.
Luckily, price comparison sites like Contacts Advice exist. When you use the right resources, and you get the lowest price possible for your contact lenses, they might still not be cheap, but at least you know you're not wasting money on over-priced contact lenses (and lining the pockets of greedy retailers).
Before buying your next supply of contact lenses, make sure you check out Contacts Advice's Contact Lens Price Comparison Chart.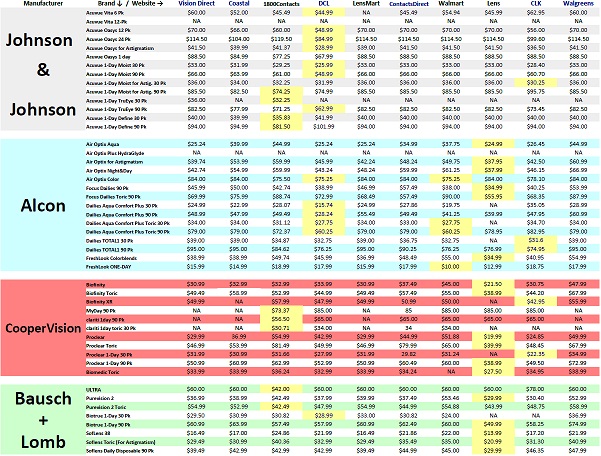 8. Colored lenses are bad for you
netdoctor.co.uk perspective:
Not the ones sold by your optometrist
Contacts Advice:
Agree
Elaboration:
There are many kinds of colored contact lenses that are not FDA or Health Canada approved for use that are sold worldwide. These lenses should not be worn unless approved by your optometrist.
Safe color contact lens brands to use include
Expressions
FreshLook Color
FreshLook ColorBlends
FreshLook ONE-DAY
Acuvue 1-day Define
However, even these should be professionally fitted by an eye care professional before you purchase them. Be aware that when you are fitted for contact lenses by your optometrist, you do not have to purchase your lenses from him/her. The law obliges them to give you your contact lens prescription so that you may shop elsewhere and get the exact contact lenses you were prescribed.
The lowest prices for color contact lenses can always be found right here at Contacts Advice.
9. You can wear them if you have allergies
netdoctor.co.uk perspective:
False
Contacts Advice:
Agree
Elaboration:
Most people with mild allergies can and do still wear contact lenses. During particularly harsh flare ups, it may be best to avoid wearing contacts, as your eyes might be very itchy and watery. But that's not a reason to have to avoid wearing contact lenses altogether.