Rebates for contact lenses can drop the price of contact lenses and make it seem like you're getting a really good deal. However, this is rarely the case and more often than not, contact lens rebates just end up costing you rather than saving you money.
What are Rebates for Contact Lenses
Rebates on contact lenses are special discounts that contact lens manufacturers offer on their contact lenses, but only after they have been purchased at full price.
In order to claim the rebate and get some money back, you are required to fill out forms, send in documents, wait for approval, etc.
They are sometimes referred to as mail in rebates because in the past you had to mail all the forms to the company. Some companies still do things by mail, while some have moved to online, but essentially it is still the same thing.
Here's what mail-in rebates are like in a nutshell.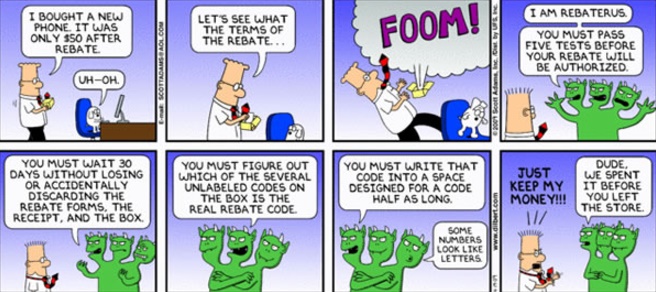 Why do Companies Offer Contact Lens Rebates?
You might wonder, why even offer rebates for contact lenses? Why not just sell the contact lenses at a lower price?
Allows them to sell more contacts
Contact Lens Rebates are a tactic used by the contact lens manufacturers to sell more contact lenses. How? Contact lens rebates are usually not offered unless you purchase a large supply of contact lenses such as a 6 month or a 1 year supply.

Clearly, a much easier way to offer volume discounts to patients is simply for the retailers to charge you less when you purchase a certain number of boxes of contact lenses. The retailer can then settle things with the manufacturers instead of passing that burden onto you.
Allows them to keep your money
The real reason manufacturers offer rebates for contact lenses is because it allows them to make more money.
The rebates sound really nice. You're told that you could get hundreds of dollars back on your contact lens purchase, who wouldn't want that, right?
The reality is that they make the process of redeeming the rebate such a hassle that they know that most people won't actually bother to redeem it when the time comes.
Delaying the process
The rebates cannot even begin to be claimed until your contact lens order comes in. This is usually several days after your purchase, and by then, the money you spent on your contact lenses isn't really on your mind anymore. For this reason, many people will never even bother to attempt to claim their rebate.
Complicating the process
If you decide you do want to claim your contact lens rebate, you're confronted with obstacle after obstacle which is designed to discourage you from going through with the rebate process.
Complicated fine print surrounding contact lens rebates
In case you have any doubts about the headaches involved in trying rebates for contact lenses, just take a look at these reviews from frustrated contact lens wearers:
You can find pages and pages of these on this review website: www.reviewstalk.com
Don't fall for the rebate scam May 11, 2017

I filed my rebate in November of 2016 and it is now May of 2017. I've called every week for the past 8 weeks and it's clear no one at the Rebate Center has any authority as they read off the same script every time I call. "Due to overwhelming demand it looks like your pre-paid Visa card is taking longer to process. It should be mailed out soon though".

Listen to every review on this site and don't fall for Alcon's run around scam. I hope we can enlighten enough people that they will be out of business within the next few years.
Frustrated Apr 26, 2017

Wow! What a sales scam! I submit all of the required documentation for my wife's new contact lenses and I get an email rejecting my submission because "complete documentation not received." I once again gather up all of the required documents and attempt to resubmit and when I use my rebate claim number, I'm directed to a web site that states the server DNS could not be found. Given all of the registered complaints, is there anyone taking this company to task?
Alcon Dailies 1 Rebate Scam Apr 25, 2017

Buy what you can afford. DO NOT COUNT ON GETTING PAID A REBATE!

The Aclon Dailies 1 Rebate is a Scam.

They obviously do not want to fulfill offered rebates. I will be complaining to my Dr. office, because they are the ones that promote the savings when they sell you the move expensive lenses.

The form from the doctor directs you to a website where you register, then you wait for an email, which directs you to a page that repeats the form from your doctor but now with a new code. It is a loop.

Register, to register, to get a form, to get a postcard? give me break. When I call, they have no record of me. Okay, how did they send emails back to someone they have no record of? Now the time period is closed and I am out of luck. Total BS.
Alternative to Contact Lens Rebates?
Rebates on contact lenses are mostly a thing of eye doctor offices. Eye doctors sell contact lenses at such an inflated price, that they need to offer rebates in order to entice their patients to purchase contact lenses from them. However, as the reviews above demonstrate, rebates cost you time, money and frustration more often than they save you any money.
In the online world, it is less common to encounter rebates on contact lenses because the prices are already so low.
This is a much more direct way of saving money on contact lenses. Instead of the roundabout, and often futile contact lens rebate.
Where to Shop for Contact Lenses Online
Although prices for contact lenses are unquestionably cheaper online than in your doctor's office, you need to know where the lowest prices for your brand are found.
There are some contact lens websites that exploit the assumption that many people have that prices for contact lenses on the internet are all the same. They far from it!
Consult a Contact Lens Price Comparison Site
At Contacts Advice, I compare contact lens prices across all major contact lens websites. Prices vary so much from site to site that some places charge more than double what other places do! Take a look at this price comparison chart from this week and notice how much prices vary across websites: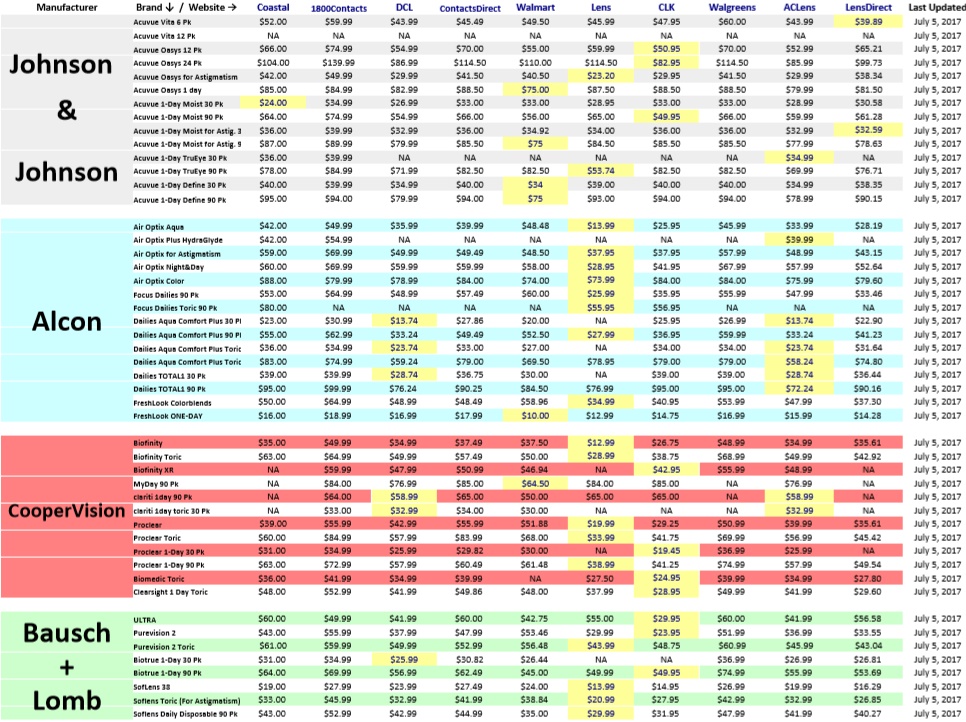 Prices change almost weekly, so make sure to consult the most up to date version of the chart above by hitting the banner below.

Get a Contact Lens Price Consult
When looking save the most money on contact lenses, you don't just have to consider what website has the best price, but also whether or not you have to pay for shipping & handling, and what kind of volume discounts are available, if there are hidden processing fees, etc.
With all of this in mind, it can be very difficult to narrow down the best place to buy contact lenses online, especially if you're not familiar with all of the websites out there.
That is why I offer FREE contact lens price consults. All I need to know is what your brand is, and how many boxes you want to order, and I can find the website that will save you the most money on your order.
This is a service that can potentially save you hundreds of dollars on your order, and it's completely free. So what are you waiting for? Get your FREE contact lens price consult today!