Your glasses prescription and your contact lens prescription are not the same! If you are using your glasses prescription to order contact lenses online, you may be ordering the wrong power in your contacts which can lead to blurred vision, eyestrain and headaches.
It is very important when ordering contact lenses online to do so using a contact lens prescription. In this article, I will explain why you should not be ordering your contact lenses with your glasses prescription.
Difference Between A Glasses Prescription And A Contact Lens Prescription
The Distance Between Lenses and Eyes Matter
Prescriptions for glasses and contact lenses are different because the effective focusing power of any type of lens depends on how far away it is from your eye.
Take a magnifying glass for example. If you place a magnifying glass up to your eye, what you see through it is very different from what you see if you hold the same magnifying glass out at arm's length.
It works the other way around too. Have a friend look at your eye through a magnifying glass and play around with the distance between your eye and the lens. Your friend will notice that as the distance changes, so does the size of your eye!
The same principle applies to glasses. If you are wearing glasses right now, try taking them off and holding them out at the end of your arms. Pick any object in the room and look at it through your lenses, then put them back on and look at that same object again. The object will not look the same in both instances because you are changing the distance between the lenses are your eye.
Prescriptions for Glasses are Measured Away From the Eyes
When your optometrist measures your glasses prescription, he or she does so by placing different lenses in front of your eyes. Throughout the testing, these lenses are all at a specific distance from your eyes. After being tested with these lenses, it is implied that the prescription you receive is for lenses that will sit at about the same distance from your eye as the ones used to measure your prescription, i.e., it is a prescription for glasses, not contact lenses.
There is No Distance Between Contact Lenses and Your Eyes
A prescription for glasses shows the strength of the lenses that you need at about 12-14 mm away from your eyes. Most glasses hold the lenses at approximately that distance. However, with contact lenses, there is no distance between the lenses and your eyes. That's their whole purpose. They are in contact with your eyes!
This means that for contacts, your prescription for glasses has to be adjusted by an eye doctor to account for the change in distance between the lenses and your eyes.
There are several additional factors that eye doctors will consider when converting your glasses prescription to contact lenses such as your age, lifestyle, contact lens brand, available contact lens parameters, etc. Depending on the situation, sometimes the glasses prescription and the contact lens prescription will be exactly the same. However, often they can be quite different.
Converting A Prescription For Glasses Into Contact Lenses?
Several actions must be performed before an eye doctor can issue a prescription for contact lenses. First, he/she must look at your glasses prescription and determine whether or not contact lenses will be available in your prescription. If your prescription is too high or too complex, you may not be a good candidate for contact lenses.
If an eye doctor determines that a prescription is suitable for contact lenses, he or she must start by performing some math on the numbers of the glasses prescription. The math performed goes more or less as follows.
Back Vertexing the Sphere Power
It is normal for you to see a different 'Sphere' (often abbreviated as 'Sph') number on your glasses and contact lens prescription.
Eye doctors begin by applying a mathematical formula to the Sphere number. This formula only produces a sphere number for your contact lenses that is different from your glasses if the of the 'Sphere' is higher than 4.00D.
For example, if the Sphere number is +2.50D or -3.25D, the Sphere number stays the same between the glasses prescription and contacts prescription (most of the time). However, if the absolute value of the Sphere number is higher than 4.00D, for example, +5.00D or -7.50D, the formula will produce a Sphere number that is different for contact lenses.
For simple numbers, most eye doctors have the results of the back vertex equation memorized. But for the trickier numbers, something known as a vertex conversion chart can be used to quickly find the answer.
To use a vertex conversion chart, the Sphere number on the glasses prescription is looked up in the middle column, and if there is a 'minus sign' in front of it, the conversion is on the left, if there is a 'plus sign' in front of it, the conversion is on the right.
Your doctor will often have to use his or her professional judgment in order to determine the correct Sphere for you, as the back vertex formula often produces results which end in numbers such as .12, .37, .62, and .87. Since glasses and contact lenses can only be ordered in numbers ending in .00, .25, .50, and .75, some rounding is sometimes necessary.
Once the Sphere number has been converted, the process continues with the cylinder and axis numbers. Not all prescriptions will have a Cylinder and Axis, but those that do will require additional work from eyes doctor n order to properly determine the contact lenses prescription.
Dealing With Cylinder
The 'Cylinder' (often abbreviated as 'Cyl') also needs to be vertexed, just like the Sphere number. However, one cannot use the same vertex conversion chart as the one used for the Sphere number.
The reason for this is difficult to explain without delving into a full-blown discussion about astigmatism, but in short, people with cylinder require two different strengths in their lenses to see clearly. The cylinder number is only a representation how much more power your 'secondary power' is compared to the 'primary power' (the Sphere).
In order to use a regular vertex conversion chart to convert the Cylinder, you would first have to add the Sphere and Cylinder together, then look the sum up on the chart, then subtract the original Sphere from the result of that conversion.
Have I lost you? Don't worry about it, it's only really important for your eye doctor to know :P



Doing It The Easy Way
To make the processes easier for myself when I worked in the contact lens industry, I decided to develop vertex conversion charts for sphere and cylinder combinations that convert both the sphere and the cylinder at the same time without the need for any messy calculations.
The fastest way to convert a glasses prescription to contact lenses is simply to look it up on a chart.
Once the most appropriate Cylinder for the contacts has been determined, eye doctors will decide whether or not you'll need contact lenses for astigmatism. There are two possible outcomes.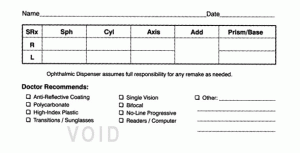 1) If the glasses 'Cylinder' number is -0.75 or more
When the Cylinder number of a glasses prescription is -0.75 or higher, eye doctors will most likely recommend that you use a brand of contact lenses for astigmatism (also known as toric contact lenses).
Contact lenses for astigmatism are contact lenses that have Cylinder and Axis in them. However, the Cylinder powers available in contact lenses are not nearly as extensive as in glasses.
Glasses can have any Cylinder power from -0.25 to upwards of -6.00 in steps of 0.25 i.e., -0.25, -0.50, -0.75, -1.00, -1.25, -1.50, -1.75, -2.00, -2.25, -2.50 … etc,.
Contact lenses for astigmatism only have a few cylinder options. In general, they are -0.75, -1.25, -1.75, -2.25 and -2.75.
If the Cylinder number a glasses prescription does not match one of the available Cylinders for contact lenses for astigmatism, eye doctors then have to select the closest, most appropriate Cylinder based on his/her professional opinion.
2) If the glasses 'Cylinder' number is -0.25 or -0.50
It is possible for a glasses prescription to contain Cylinder and Axis but for neither of them show up on the contact lens prescription. This will typically happen if the Cylinder on the glasses prescription is either -0.25 or -0.50. When this is the case, contact lenses for astigmatism are usually not needed.
When Cylinder is -0.25
If a glasses prescription has a Cylinder of -0.25, eye doctors may just completely ignore it (as well as the axis) for the contact lens prescription. A cylinder of -0.25 has such as a small impact on the vision that it is often not necessary to carry over from a glasses prescription to a contact lens prescription.
When Cylinder is -0.50
If a glasses prescription has a Cylinder of -0.50, it may still be removed from the contact lens prescription by eye doctors, however, he/she may decide to compensate for it by adding an extra -0.25 to the Sphere. This is a process called 'taking the spherical equivalent' of a prescription.
Getting The Right Axis
If your prescription has a Cylinder number, it will also have an Axis number. The Axis on prescriptions for glasses can be any number between 1 and 180, however, in contact lenses, the Axis can only be between 10 and 180 in steps of 10. For the contact lens prescription, eye doctors will have to select the closest Axis possible to your glasses prescription, and then refine it later if needed.
And that's just the beginning…
Once eye doctors have completed all of the actions above, he/she will order contacts with parameters based on his/her calculations/judgement and have you try them on to see how well they perform. The contacts will be assessed for how good the vision is, and how well they fit on your eyes. From there, certain adjustments can be made if…
The vision through the contacts is not adequate. Eye doctors may tweak the power and try again.
The rotation of the contacts lenses (for astigmatism only) is off. A different axis will then be selected to offset the rotation.
The centration or the tightness of the contact lens is not appropriate. Eye doctors may select a different base curve, or switch to a different brand.
Tutorials
If you're a student looking for supplemental material on how to convert glasses prescriptions to contacts lenses, or you simply want to learn more, I have written a comprehensive 4-part tutorial that can help you with this. You can find it in my 'Conversion Resources' or by clicking here.



Using A Contact Lens Prescription Online
Once an eye doctor has issued you a valid contact lens prescription, you can then use it to order contact lenses in stores or online. Depending on the website you chose to buy your contact lenses from, you may or may not have to provide the website with your prescription (depending on the regulations governing the site).
Summary
Glasses and contact lenses are two very different things, and often require very different prescriptions. There's a lot that goes into calculating a contact lens prescription, and only your eye doctor is qualified to do this for you.
In the USA, ordering contact lenses online requires you to either submit your prescription for contact lenses electronically or provide your eye doctor's information in order for the website to verify your prescription with your eye doctor. The FTC Contact Lens Rule is a law that requires your eye doctor to provide you with your contact lens prescription after you have been assessed, whether you've asked for it or not. It is your right to receive your prescription and shop anywhere you'd like for your contacts. To learn more about the FTC Contact Lens Rule, Click here.
P.S. I am happy to answer questions about optics, contact lenses, brands, and prices in the comments below, but I do not offer any medically-related advice. I recommend speaking to a licensed health care professional for all medical concerns.
This just means the number without the + or – sign