When you set out to order contact lenses online, you have to come prepared with a certain amount of information. The most important piece of information is your contact lens prescription. You may have mentally checked this item off in your head when you received your glasses prescription from your optometrists, but this might lead you into error.
---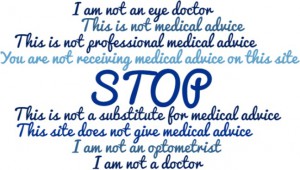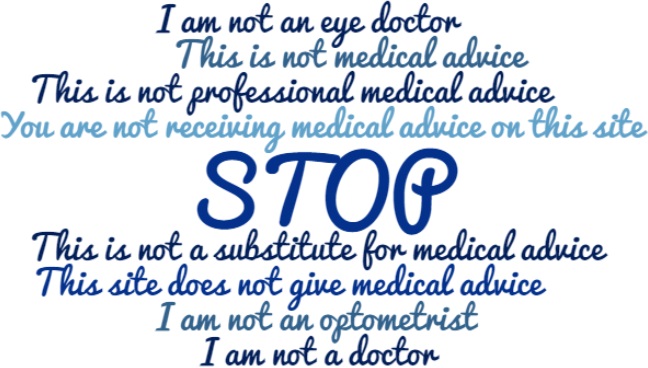 I am not a doctor. The information on this page is for educational purposes only, and it is not to be taken as medical advice. 
Please read Contacts Advice Terms of Use before continuing.
---
Contact Lens Prescription VS Glasses Prescription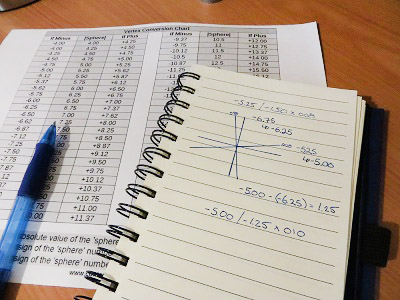 Your glasses prescription is different than your prescription for contact lenses, and unless you paid your optometrists a special fee to specifically obtain your contact lens prescription, chances are you don't have the correct numbers for your contacts.
Certain prescription for glasses must be converted using a special equation, followed by some rounding based on the limited range of available powers in contact lenses to arrive at the numbers you can use to order contact lenses online.
If you attempt to order contact lenses using the exact numbers written on your glasses prescription, you will often run into the problem where the numbers on your prescription are not available for the brand of contacts that you're trying to order. That is because contact lenses don't come in nearly as many power options as glasses do. That's why the conversion is essential.
Even if all of the numbers on your glasses prescription do happen to be available for the brand you're shopping, ordering your contact lenses in the exact same numbers as what's written on your glasses prescription can lead to eyestrain and blurriness while wearing your contacts.
Why Won't Your Doctor Give You A Prescription For Contact Lenses?
If your optometrist knows that you wear contact lenses, why doesn't he/she just automatically give you a prescription for contact lenses as well as for glasses?
There are many reasons why they don't.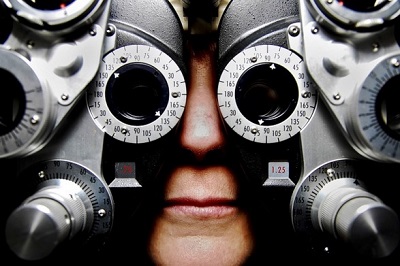 Contact Lens Fitting Fee
The main reason is because it's an opportunity for them to generate more income. Your optometrist is perfectly capable or converting your glasses prescription to contact lenses, and can do so in just a few seconds. However, since the ability to perform these conversion requires unique knowledge, they feel justified in charging an extra fee for it. This contact lens fee can run anywhere from $40 to upwards of $70.
The Fit Must Be Assessed
But there's a little more to it than that. They are also constricted by their profession's regulatory bodies. Since contact lenses are considered medical devices which can have some negative side effects on the health of your eyes if they are not fitted or worn properly, optometrists are not suppose to prescribe you contact lenses unless they have first ascertained the safety of said contact lenses on your eyes. This is also part of why they charge you an extra fee, because it takes them more time.
Retain Sales
On top of the contact lens fee, your optometrist wants to your purchase your contact lenses from his/her office. Giving out contact lens prescriptions to every single person makes it all too easy for them to take the numbers and go buy somewhere else that's less expensive. As a result, most eye doctor offices will only work out your contact lens numbers if you've committed to purchasing your contact lenses from them.
Getting your prescription from your eye doctor and purchasing your eyeglasses and contact lenses elsewhere is viewed as being disloyal to them, so to discourage that behavior they try to resist handing out prescriptions as much as possible. In many, if not all places, optometrists are legally required to hand out prescriptions for glasses to anyone who has one. But no such regulation exists for contact lens prescriptions, so they tend to keep them in-house.
Where Else Can You Get A Contact Lens Prescription?
So if optometrists won't give you a contact lens prescription unless you buy contact lenses from them, and you want to purchase your contact lenses somewhere else, what do you do?
Well as we all know there are many other places you can buy contact lenses from other that your eye doctor's. In every big city there are independent and chain optical stores on almost every street corner. Most of these places also sell contact lenses.
If you take your glasses prescription to one of these places, they most likely (though it's not a guarantee), they will have someone working there who is trained in converting prescriptions from glasses to contact lenses.
However, similar to your eye doctor's office, they have absolutely to incentive to convert your prescription for glasses to contact lenses if you have no intention of buying contact lenses from them. Doing so would be a waste of their time and it would most likely be helping out one of their competitors.
So, if no matter where you go you can only get your glasses prescription converted into contact lenses by the people at the store where you end up buying your contact lenses, what happens if you want to buy your contact lenses online?
What If You Buy Contact Lenses Online?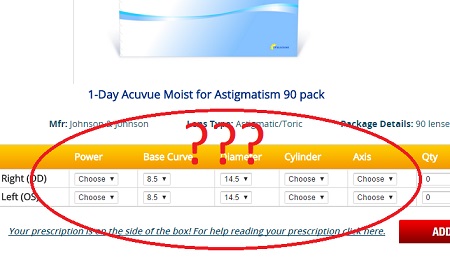 Online contact lens retailers are the natural enemy to your local optometrists, local optical store, big box optical store, etc. The internet easily out-competes (on price) any physical store that sells contact lenses because the cost of operating a website is drastically lower that the cost of operating a brick-and-mortar store. Therefore, the cost savings are passed on to the consumer.
Nowadays, websites that sell contact lenses are a dime a dozen. This would not be the case if tons of people weren't buying their contact lenses from them. But where are all of these people getting their contact lens prescriptions from?
The unfortunate reality is that many people are simply using their glasses prescription to order contact lenses online, and just filling in the gaps on their own if there are numbers on the glasses prescription that aren't available in contact lenses. This is not conducive to a healthy and enjoyable experience in contact lenses, as for many people this will result in them ordering the wrong power.
Remember, not every single prescription for glasses needs a conversion. For people with very low and simple prescriptions, the power in the glasses and the contact lenses are actually the same. But for anyone with a significant amount of nearsightedness, farsightedness or astigmatism, there is a difference.
What's The Solution?
That's a great question. Currently, your only real option to make sure you're ordering the correct contact lenses is to discuss it with your optometrist. If you explain that you intend to purchase your contact lenses online, and that you would like all the information required in order to do so, your optometrist may or may not give you the information. And unless your optometrist is very generous with his/her time, expect to have to pay a fee for this service.
If you've ordered your contact lenses online in the past, please share how to you go about getting the numbers you use to order your lenses in the comments below.