The Problem
In 2014, the popular brand of color contact lenses for astigmatism, FreshLook Color Toric/FreshLook ColorBlends Toric was discontinued by Alcon due to low demand.
This left the North American market with very little options for people who need contact lenses for astigmatism (aka toric contact lenses), and who also want to change the color of their eyes.
Since the discontinuation of FreshLook Color Toric, some people have been lucky enough to get color contact lenses for astigmatism through their optometrists who have accounts with custom contact lens manufacturers, but for the majority of people, they were just plain out of luck.

Taking The Spherical Equivalent is One Solution…
To get around the problem, many people have been asking their eye doctors to ignore the astigmatism component of their prescription, and to make up for it by modifying the 'Spherical' power. This is called taking the 'Equivalent Sphere' of a prescription, and for those who have very low astigmatism, doing this kind of trick is actually works out very well.
The amount of astigmatism in your prescription is represented by the 'Cylinder' number. If you're Cylinder is -1.00 or less, your eye doctor could approve you for color contact lenses using the Equivalent Sphere, but keep in mind that your vision may be slightly reduced.
To find out more about what about what it means to use the equivalent sphere of your prescription, read this article: The Spherical Equivalent of Your Prescription
But what about all those people with mid-level to high amounts of astigmatism? Taking the Spherical Equivalent is not an option because the vision would be too drastically reduced. The good news is there is still hope.
Color Contact Lenses for Astigmatism Still Exist!
FreshLook Color Toric was the only toric color contact lens brand in North America, and since its disappearance, there has been no new alternatives. But if you look outside of North America, it's a different story.
In this article, I will discuss 2 popular brands of color contact lenses for astigmatism sold internationally.
I have written reviews of a few other websites that sell color contacts for astigmatism.
They are:
**Always have an eye doctor examine the fit of contact lenses on your eyes before starting to use them.**
Solotica From ParanaLentes
---
ParanaLentes is an online retailer of contact lenses based in Brazil. They have been in operation since 2004 and have become pretty popular worldwide for selling  the Solotica brand of color contacts.
Solotica is a line of color contact lenses that has many different shades and variations.
They include :
Solotica HIDROCHARME
Solotica HIDROCOR
Solotica HIDROCOR Toric
Solotica NATURAL COLORS
Solotica NATURAL COLORS Toric
Of course, the 2 that are relevant to people with astigmatism are the Solotica Hidrocor Toric and the Solotica Natural Colors Toric.
Unfortunately, on the ParanaLentes website, they don't list any lens information such as lens material, base curve, diameter, water content, center thickness, etc for the Solotica Hidrocor Toric and the Solotica Natural Colors Toric.
They do however, list this information for the non-toric version on these brands.
Solotica Hidrocor and Solotica Natural Colors
Type: Yearly disposable
Material: 62% Polymacon
Water Content: 38%
Diameter: 14.2mm
Base Cure: 8.7mm
Pack Size: Sold Individually
I suppose we can assume that the toric versions have similar parameters, although in virtually every contact lens brand sold in North America, the toric versions typically have different base curves and diameters compared to their non-toric counterparts.
It would be nice if their site specified the exact parameters of their toric lines. Since they don't, that's just all the more reason to make sure you have an optometrist look at these lenses on your eyes before you start wearing them regularly.
Additionally, what is not listed here is a lens parameter known as the Dk/t. This is a parameter which tells us how breathable the contact lenses are. For a contact lens that is to be worn all year round, knowing this number would be pretty important.
But what is really good about the Solotica Hidrocor Toric and the Solotica Natural Colors Toric is their amazing range of powers.
These lenses can made for virtually every single prescription in existence. The power ranges are:
Sphere: -20.00 to +10.00
Cylinder: -0.75 to -7.00
Axis: 1 to 180
The difference between the Solotica Hidrocor Toric and the Solotica Natural Colors Toric is simply the look of the color pattern.
Solotica Hidrocor Toric has more of a uniform color throughout the lens.
| | | |
| --- | --- | --- |
| | Blue | Marine |
| Honey | Hazel | Green |
Solotica Natural Colors Toric has an outline around the outside and the inside of the iris to provide more contrast against the white and black of your eyes.

Crystal


Graphite

Quartz

Blue

Topaz

Marine

Honey

Hazel

Green

Emerald
Price
The price at ParanaLentes for the brands Solotica Hidrocor Toric and Solotica Natural Colors Toric is very reasonable. For a pair, it will cost $285.66 USD. This works out to about $24/month, which is less than $1/day.
Desio
---
Desio is an Italian based company that prides itself on the uniqueness of its color contact lens designs. Their lenses are designed for men, just as much as they are designed for women.
They currently have 3 lines of contacts:
Sensual Beauty Lenses
Sensual Beauty Lenses Toric
Two Shades of Grey
They give the basic lens parameters such as lens material, base curve, diameter and water content, but similar to the Solotica Lenses, they don't indicate the Dk/t which is a measure of a lens' breathability.
Sensual Beauty Lenses Toric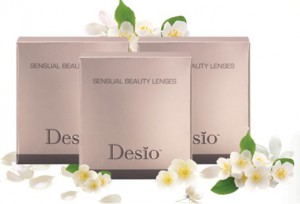 Type: Quarterly Lens (3 months disposable)
Material: Polymacon
Water Content: 38%
Diameter: 14.5mm
Base Cure: 8.7mm
Pack Size: 2
It is interesting that both Solotica and Desio lenses seem to be made with the same material (polymacon), yet Solotica is a yearly disposable lens, and Desio is a quarterly (3 months) lens. This is most likely due to the differences in the health regulatory bodies in Brazil and Italy, but that's just my guess.
Similar examples can be seen in Canada, US, and the UK. Some lenses are approved for overnight wear for up to 30 days in the US, but only up to 6 days in Canada. That is because every country has its own safety standards for contact lenses. Keep that in mind when ordering lenses from another country which are not approved for sale within your own country.
The range of available powers for the Desio lenses are pretty standard for most toric contact lenses.
Sphere: -10.00 to +3.00
Cylinder: -0.75 to -3.00
Axis: 10 to 180 (in steps of 10)
The Desio lenses boast a unique set of colors. The lens designs are inspired by the Earth and sea, and indeed have a very natural look to them.

Creamy Beige


Icy Blue

Mint Touch

Desert Dream

Forest Green

Caramel Brown

Innocent White
As far as uniqueness and beauty of the designs, I award Desio top marks. The colors are very pleasing and interesting, yet they look completely natural.
The cost of Desio lenses € 80.00 (~$90.22 USD) for a pair, which adds up to ~$360.88 USD for a year supply.
My Thoughts
As I have alluded to earlier, there is a reason why these lenses are not sold on North America sites like 1800Contacts.com, ContactLensKing.com, etc, or through your eye doctor's office. It is because they have not been approved for sale by the FDA or Health Canada.
Does this mean that they are unsafe? No, it doesn't. The fact that they haven't been approved, doesn't mean that they have been investigated and deemed to be a health hazard. It just means that they haven't been investigated. The FDA and Health Canada cannot possibly run clinical trials on every single brand of contact lenses produced worldwide, there are just too many and it would consume all of their time and resources.
Furthermore, it is a very costly and lengthy process for a company to obtain FDA approval for a product, so sometimes companies simply don't bother with it.
As with any other brand of contact lenses for astigmatism, it is very important to be fitted for them before they can be worn regularly. Contact lenses for astigmatism need to fit your eyes rather precisely for the vision to be clear. If the lenses don't position themselves correctly on your eyes, it won't matter that you have the correct prescription, the vision just won't be clear. The higher your astigmatism, the more important the fit of the lens is.
In general, I dislike the idea of yearly contacts such as the Solotica lenses. A year is a long time and if you accidentally lose or rip a contact lens, it means you're out of luck. The more often you replace your lenses, the less it matters if you lose or break one.
Additionally, the longer you keep a lens, the more deposits eventually build-up on it, which makes it less and less comfortable as time goes on, as well as more and more irritating to your eyes.
And finally, when it comes to color contact lenses, lenses that are replaced more often allow you to change colors more often. For those who tend to get tired of a certain look fairly quickly, quarterly lenses such as Desio may be more suitable to your needs.
So as you can see, buying color contact lenses for astigmatism abroad may not be the best option, but when it's your only option, it's certainly something to consider. Bring it up to your eye doctor at your next appointment, and see what he/she thinks.
**Update**
Since writing this article, it seems that the FDA has actually approved Solotica lenses. Solotica brands Hidrocor, Hidrocharme and Natural Colors. You can see so for yourself here: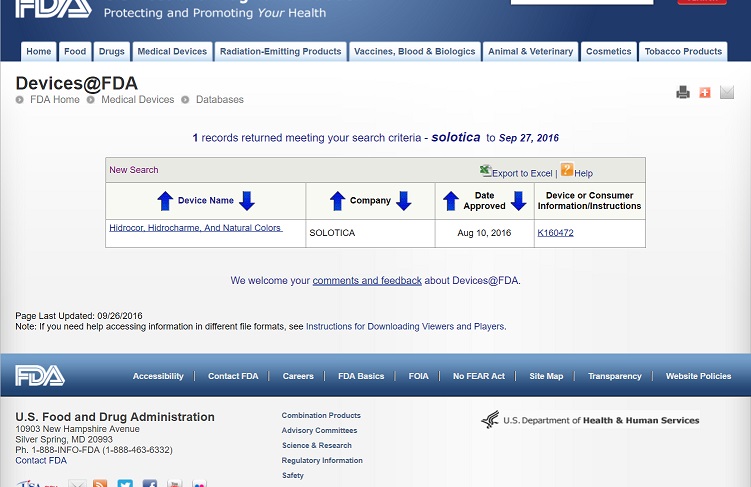 Again, this goes to show you that contact lenses that aren't approved by the FDA are not necessarily dangerous. It just means that the FDA hasn't had a chance to approve/disapprove them yet. For the longest time Solotica lenses were not approved by the FDA, but now they are. It's not because they use to be dangerous, but now they're safe. The lenses themselves haven't changed, the only thing changed is that the FDA decided to take the time (and their fees) to test them.
However, despite the fact that they are deemed safe for use by the FDA, you should still have them fitted by an optometrist to make sure they're appropriate for you.
Where To Find The Lowest Contact Lens Prices
When you want to purchase your regular clear contact lenses, it's important to shop around to get the best price for your contact lenses.
Here at Contacts Advice, I've made the process as simple as possible.
Since I launched Contacts Advice in 2015, my mission has been to save contact lens wearers as much money as possible. That's why I find the lowest prices for every brand of contact lenses so that you never overpay for your contact lenses again.
What Can You Expect From Contacts Advice?
Price comparisons at the top contact lens websites
Lowest price found for every brand
Weekly updates on all prices
Never overpay for contact lenses again!