---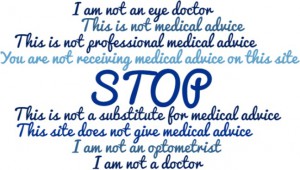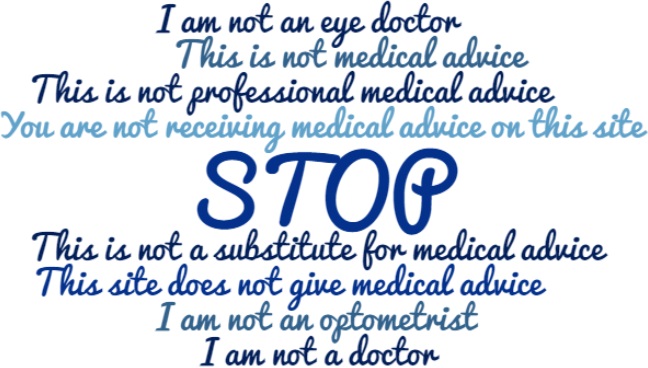 I am not a doctor and this article is not a substitute for professional medical advice. You are not receiving a diagnosis or being prescribed treatment on this page. Please read Contacts Advice Terms of Use before continuing.
---
An article in the Optometry Times journal called Dry eye and contact lens wear that states that 50% of contact lens wearers get dry eyes and that over 75% of people who drop out of contact lenses do so because of dryness.
But what is it about contact lenses that causes the eyes to feel so dry? Aren't contact lenses suppose to be getting better and better? Compared to the contact lenses that existed 20 years ago, contact lenses today should feel so comfortable we don't even know they're there, right?
Well, it turns out that the technology that goes into making contact lenses as moist and as friction-less as possible can only take comfort so far. The rest depends on they eyes themselves being able to support the use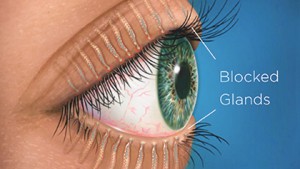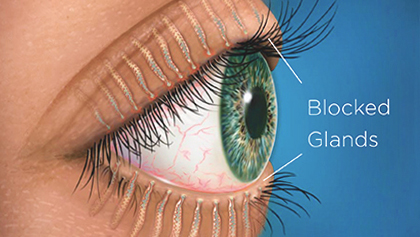 of contact lenses.
One of the leading causes of dry eyes today for contact lens wearers is something known as meibomian gland dysfunction (MGD). Not only is MGD extremely common, but people are getting this condition at younger and younger ages because of increased use of digital devices, make-up, contact lenses, etc.
What is Meibomian Gland Dysfunction?
Meibomian gland dysfunction is a condition that results in the blockage of the small glands found inside our eyelids called meibomian glands. These glands have their openings all along the upper and lower eyelid margins, and they are responsible for producing something known as meibum, which spreads over the surface of the eyes to keep them lubricated.
Meibum is a type of oil that is a critical component of the tears that protect our eyes from drying out. Without high quality meibum, the tears on our eyes will be weak, and evaporate quickly causing dryness.
Meibomian Gland Dysfunction Symptoms
For contact lens wearers, MGD means irritation from contact lenses. When the tears on the surface of the eye are not strong enough to provide adequate lubrication for the contact lenses, every time the contact lenses move (which happens every time we move our eyes, blink, etc.), the eyes will feel as though there are two giant foreign bodies stuck inside them.
MGD can also affects non-contact lenses wearers. If the condition progresses enough, the eyes will always feel gritty, irritated, and look red.
In addition to how MGD makes the eyes feel, it also causes changes to the appearance of the eyelids themselves. Over time, as the meibomian glands become more and more blocked, inflammation will result along the lid margins. This will create a red and swollen appearance of the eyelids.
When the glands have been blocked for too long, they will eventually stop working and wither away. If this happens, instead of having a nice smooth eyelid margin, you will begin to see little divots, or notches, where the glands have died. At this point, these changes are irreversible.
Meibomian Gland Dysfunction Causes
Anything that reduces the normal flow of meibum from the meibomian glands can cause MGD over time. Anything that causes inflammation along the eye lid margins will also in time cause MGD.
Some common causes of MGD are chronic use of make-up over the eyelid margins, contact lens over-wear, excessive use of digital devices, living or working in very dusty or dirty environments, acne medications like Accutane (isotretinoin), aging, just to name a few.
One of the things that is resulting in people developing MGD at very young ages is the increased use of digital devices like smartphones, tablets, laptops, desktops, etc. This contributes to MGD at an early age because when we look at a digital monitor, our eyes don't blink as much. The force of the eyelids coming together when blinking is the mechanism by which the the meibomian glands are noramlly expressed.
If we don't blink as much, we don't get as much expression out of the glands and the meibum builds up inside the glands. Eventually the glands get blocked and the cycle of inflammation and MGD begins.
Meibomian Gland Dysfunction Treatment
The aim in treating meibomian gland dysfunction is to get the glands working and the meibum flowing again.
To alleviate the symptoms of MGD, the use of specific artificial tears is recommended. Because an eye that is affected by MGD lacks the meibum oils on the eye's surface, artificial tears that have been developed to include molecules that mimic the eye's natural meibum are recommended. The most advanced drop of this kind is called Refresh Optive Advance.
==> Click here to read more about Refresh Optive Advance <==
However, artificial tears alone will not reverse the MGD, it will only alleviate the symptoms. In order to actually improve the condition, it is recommended to perform hot compresses for a minimum of 10 minutes daily on an ongoing basis.
The key to success with hot compresses is using a product that will get hot enough and will hold its heat throughout the 10 minutes in order to ensure a constant and uninterrupted delivery of heat. By performing hot compresses, the meibomian glands will gradually become unblocked, and the backed up meibum will slowly but eventually soften and start to flow naturally again.
By far, the best product to use to perform your hot compresses is something called the Bruder Eye Hydrating Compress.
==> Click here to learn more about the Bruder Eye Hydrating Compress <==
Artificial tears and hot compresses are the first steps towards treating MDG. Some optometrists may choose to prescribe you some oral antibiotics/anti-inflammatory medications like doxycycline. For more information about what medications can help with MGD, it is recommend that you speak with your optometrist.
Can Meibomian Gland Dysfunction Be Cured?
Unfortunately, meibomian gland dysfunction is a chronic condition. This means that although you can make it better using treatment, if you stop your treatment, there is a high likelihood of it coming back.
The biggest mistake people make when managing their MGD is that they stop their treatment as soon as their eyes start to feel better. This just allows the condition to return and all the gains they've made with their hot compresses is lost.
Conclusion
If you're one of the 50% of people who experience dryness with their contact lenses despite being in a good quality lens, chances are you've got meibomian gland dysfunction. The good news is that this does not necessarily need to cause you to drop out of contact lenses. If you are diligent with about using eye drops and performing your hot compresses, you will be able to continue to wear contact lenses for many more years to come.
I hope you found this information helpful. If you have experience with meibomian gland dysfunction or dryness with contact lenses, feel free to share your experience and leave any tips you have on how to improve the condition.