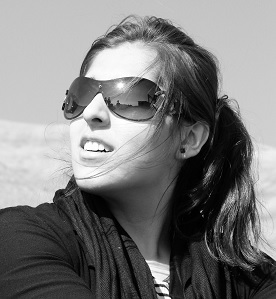 In this article I will talk about why polarized sunglasses are superior to regular sunglasses and how they can enhance the way you see the world.
One of the great many benefits of wearing contact lenses is that it allows you the freedom to wear non-prescription sunglasses. For many people in fact, being able to wear sunglasses at the beach during the summer time while still being able to see, is one of the biggest motivators to start getting into contacts.
If you've ever been in the market for sunglasses, you will surely have come across the term 'polarized sunglasses'. But what does 'polarized sunglasses' mean?
The word 'polarized' comes from the fact that the lenses of these types of sunglasses contain something known as a 'polarizing filter'. To understand what a polarization filter does, you first have to understand a little bit about light, and what causes glare.
---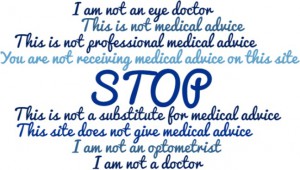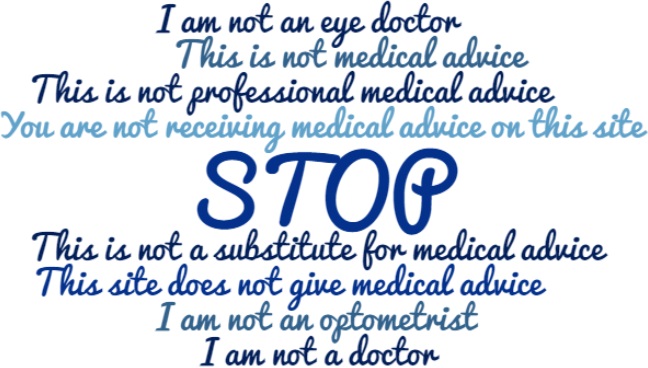 I am not a doctor. The information provided on this page is for general educational purposes only. You are not receiving medical advice or being prescribed glasses. Please read Contacts Advice Terms of Use before continuing.
---
How Light Travels

Without getting too much into the physics of light, suffice it to say that light is essentially waves travelling through space. When light waves are emitted from a source (in the case of this discussion, the sun), the waves are very disorganized. When the orientation of light waves is completely disorganized and random, it is called 'unpolarized light'. But when light hits a surface, the reflected light rays aren't randomly oriented anymore. Rather, all the reflected light rays share the same orientation, or in other words, the light is said to be 'polarized'.
The reason why we experience glare off the road, off cars, off bodies of water, etc. is because of the polarization of light once it has been reflected. When light rays are all organized in the same orientation, they become stronger and our eyes have difficulty dealing with it.
Polarized sunglasses contain a 'polarizing filter' which blocks out the polarized light and eliminates glare.
Polarized Sunglasses Vs Non Polarized
Non Polarized Sunglasses:
Non polarized sunglasses are tinted which blocks a certain percentage of all the light that passes through them. The darker the tint, the more light is blocked by the lenses and the harder it is to see through them. Everybody has at some point tried these kinds of sunglasses on. Because non polarized sunglasses reduces the overall amount of light reaching your eyes, they by definition make your vision worse.
Non polarized sunglasses may not be too detrimental to your vision In extremely sunny conditions, but they will make your vision too poor to function on overcast days, and indoors. Although they may shield your eyes from harmful UV rays and make your eyes more comfortable, they do not eliminate glare in any way. The glare is just dulled down along with everything else in your vision.
Polarized Sunglasses: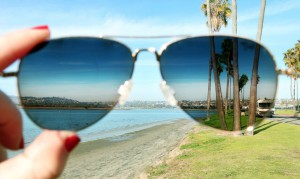 Polarized sunglasses on the other hand work differently. In addition to being tinted, the lenses contain a microscopic layer which blocks the polarized light that causes glare. This actually enhances vision instead of diminishing it. Without the distracting (and often debilitating) effect of glare, the tints don't have to block out as much light in order for your eyes to see comfortably. This means that you can wear polarized sunglasses in any condition, whether sunny or overcast, whether indoors or outdoors and see better than you would with non polarized sunglasses or without any sunglasses at all.
In every situation, polarized sunglasses will help you see things quicker, and from further away than you would with non polarized sunglasses. That means that driving with polarized sunglasses can actually help prevent motor vehicle accidents by increasing drivers' reaction times. Some studies have shown that drivers wearing polarized sunglasses were able to react 1/3 of a second faster than drivers wearing non polarized sunglasses, which resulted in them being about to stop their car 23 feet sooner (for a car travelling at 50 mph).
Technically, there is no difference between polarized and non polarized sunglasses when it comes to UV protection. Both types of sunglasses block 100% of UVA/UVB rays. This is important because prolonged exposure to UV light can damage the eyes. UV light can lead to conditions such as premature cataracts, macular degeneration, pinguecula, pterygiums, moles, wrinkles, etc.
How To Tell if Sunglasses Are Polarized
The best way I have found to determine if a pair of sunglasses is polarized at a glance, is to hold it up to an LCD screen, and rotate the lenses as you look through them towards the monitor. If the screen blacks out as you rotate the lenses, they are polarized. If the screen does not black out as you do a full rotation, the lenses are not polarized.
The reason why this works is because the light emitted from LCD screens is polarized. The polarization filter in polarized sunglasses will block the polarized light coming form the monitor to cause a complete blackout. This doesn't affect how you see LCD screens normally when wearing polarized sunglasses though, because you would have to tilt your head about 45 degrees while looking at the screen for it to black out.
Video showing how polarized sunglasses behave in front of LCD screens.

Video showing how non polarized sunglasses behave in front of LCD screens.
How To Clean Polarized Sunglasses
This is a question I receive a lot from my contact lens patients looking for sunglasses. There must be some rumor floating around about how to clean polarized sunglasses, otherwise I'm not sure why I would ever get this question. The proper way to clean polarized sunglasses is no different than how you would clean non-polarized sunglasses or how you would clean regular glasses.
You take some lens cleaner and spray both sides of each lenses. Then with a clean microfiber cloth, you wipe both sides down until all of the lens cleaner has been wiped away. Do no use paper based products like tissue paper, toilet paper or paper towel to wipe the lenses. Similarly, avoid using your clothes to clean the lenses. Over time this will produce many scratches on the surface of your lenses which can accumulate to affect how well you see through the lenses. Once those scratches appear, they cannot be buffed out, or otherwise removed.
How To Reduce Glare While Driving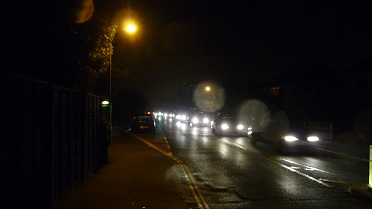 Polarized Sunglasses:
Polarized sunglasses and polarized visors are your best tools for eliminating glare while driving. Polarized sunglasses are a very multi-purpose solution to reduce flare while driving, as they be very useful in many different situations, as well as serve as a fashion accessory. The downside of relying on your polarized sunglasses to reduce glare while driving is that they are easy to forget or misplace, leaving you with no solution when you might need it the most.
Polarized Fit-Overs:
For people who don't wear contact lenses, and can't afford prescription polarized sunglasses, there are many types of polarized fit-over glasses that you can wear directly over your regular glasses. They can feel a little bulky on your face, but they'll definitely do the trick as far as reducing glare while driving.
Polarized Visors:
Polarized visors are a more specific solution to your issue of glare while driving. These visors hook on your driver's side overhead visor and flip down when you need them, and back up when you don't. Because these are made specifically for your car, they're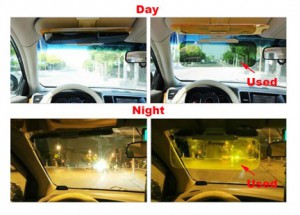 always there when you need them. There is no risk of forgetting to bring them with you on any particular day.
It's also nice because you have the option of going with the darker visor for daytime, and the lighter visor for nighttime, a useful feature that you won't get from sunglasses. The polarized visor that I like the most, and the one I recommend, is the HD Vision visor.  It's highly effective at reducing glare during the day or at night, and it's inexpensive!  Click here to get the HD Vision visor.
Specifically for eliminating glare for night time driving, the visor mention above are very effective, but you can also get a separate pair of polarized sunglasses with anti glare lenses for night driving. These kinds of glasses are still polarized, but typically have lighter yellow tints so as not to dim the vision too much.
Who Makes The Best Polarized Sunglasses?
In my opinion there is not a single company that makes the best polarized lenses. There are many different brands that all produce extremely high quality polarized sunglasses, and which one your like best will be up to your own individual preference.
Personally, I own Maui Jim polarized sunglasses because polarized lenses are their specialty. The only thing Maui Jim makes is polarized sunglasses. Many other companies try to compete on all fronts, ophthalmic frames, non polarized sunglasses and polarized sunglasses, but Maui Jim puts all of their resources, research and development into making the best polarized lenses possible.
To browse the best Maui Jim selections, click here!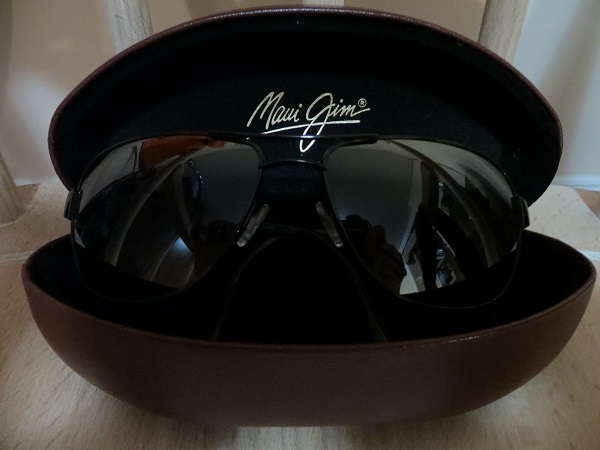 I hope this clarifies what polarized sunglasses and their benefits are. If you have any questions about them, leave them in the comments section below.