Contact lenses allow millions of people the convenience of clear vision without the hassles of wearing glasses. However, achieving clear vision with contact lenses is not quite as simple as with glasses. There are several reasons why one might experience blurriness with contact lenses, and in this article I will discuss some of the top reasons.

1. Wrong Prescription (Not converted from glasses to contacts)
This is mostly an issue for people who order contact lenses online.
When you visit the optometrist, he/she measures your prescription for glasses. This is not the same as your prescription for contact lenses. In order to obtain a contact lens prescription, your eye doctor has to take additional steps to convert the numbers from your glasses prescription to contact lenses. If you were unaware of the distinction between a glasses prescription and a contact lens prescription, you may have mistakenly ordered contact lenses using the wrong prescription.
Using a valid contact lens prescription to order contacts is always important, but it makes a much bigger difference for people with very high prescriptions. The higher the strength of your glasses, the more important this conversion becomes.
Normally, your optometrist will not automatically give you a contact lens prescription as part of your eye exam. It is typical for them to charge an extra fee of anywhere from $40-$100 for a contact lens assessment. Make sure you ask your optometrist about it if you're interested in contact lenses.
2. Increase in Prescription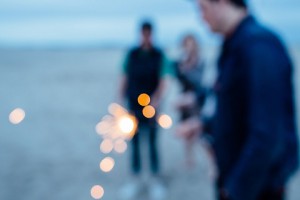 Since we typically only have our eyes examined every year or 2 years, is not unusual for us to purchase large amounts of contact lenses at a time. Say you've purchased an entire year supply of contact lenses, all the contacts you've purchased will have the same prescription. If your prescription happens to get worse throughout the year, you will notice the vision with the contact lenses become blurrier and blurrier.
The reason people most often run into this problem is because the more contact lenses they buy at a time, the less they pay per box. The cost savings over the course of the year is what influences them to buy so many. This is a very common marketing tactic that all retailers of contact lenses use, whether it's online, or at your optometrist's office.
If your prescription tends to change quickly, you can avoid this particular problem by either:
Buying smaller supplies more often. This gives you the chance to have your prescription checked before you buy more contact lenses if you think your vision has gotten more blurry with them.
Making sure the place where you're getting your contact lenses from has a good exchange policy. Good policies will allow you to exchange all of your unused contact lenses for new contact lenses with the updated prescription.
3. Unstable Lenses For Astigmatism
If you wear contact lenses for astigmatism, you may be prone to fluctuations in your vision. This happens because a contact lens for astigmatism has to be in exactly the right rotational position for your vision to be clear with them. Of course as you know, there is nothing holding the lenses perfectly still on your eyes, so when they rotate out of position, the visions becomes blurry. The higher your astigmatism is, the more this can be a problem.
To try to minimize this phenomenon, contact lens manufacturers make contact lenses for astigmatism with special stabilization features. They build the lenses in such a way that causes the contacts to orient themselves in the correct position on the eyes and keeps them in that same position throughout the day.
Unfortunately, there is no perfect lens that will remain perfectly still at all times, so from time to time you may experience a sudden blur in your vision. This is most likely your contact lens for astigmatism shifting on your eye. Usually, blinking a few times helps to bring it back into the correct orientation. If this becomes too much of a problem, consult with your eye doctor as you may need to consider switching to a different brand.
4. Dry Eyes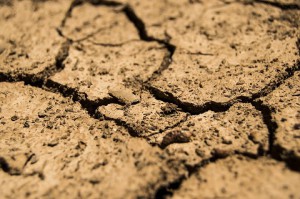 Your eyes are always covered by a very thin coating of tears called the 'tear film'. The tear film serves many different functions such as:
Protecting the ocular surface from drying out.
Providing lubrication for your eyelids as they glide over the surface of your eyes.
Washing away debris that might fall into the eyes.
Combating infection with its unique anti-microbial properties.
And last, but not least, creating a smooth ocular surface that helps to focus light better.
If the tear film is disrupted and the eyes dry out, you will not see as clearly. Without a smooth tear film coating the eyes, it exposes the irregular and rugged surface of the eye. This rugged surface does not focus light very well and the vision is comprised as a result.
When contact lenses are being worn, the same principle applies. Without the tear film properly coating the surface of the contact lenses, the tiny irregularities of the contact lens material will be exposed and cause some disruptions in the way light is focused.
If you are a contact lens wearer and your vision tends to get blurry as your contact lenses dry out, you may need to supplement your tear film with artificial tears for contact lenses.
Please beware, not all artificial tears are made for use with contact lenses. If you don't select an appropriate eye drop, you may cause unwanted irritation and redness. Click here to find out which brands are the best eye drops for contact lenses.
5. Contact Lenses in The Wrong Eye
If your vision with contact lenses is normally fine, but you notice one day that from the moment you put them on in the morning, the vision just isn't as clear in one or both eyes, then you may have inadvertently switched your right and left contact lenses. If you think this might have happened, try intentionally switching them to see if the problem resolves. If it doesn't and you're now hopelessly confused as to which lens is which, try on a fresh pair that you (hopefully) have labeled. If you've tried a fresh pair and you're sure that you have the correct lens in the correct eye, and you still see blurry with them, the consider some of the other reasons for blurriness with contacts in this article.
6. Inverted Contact Lens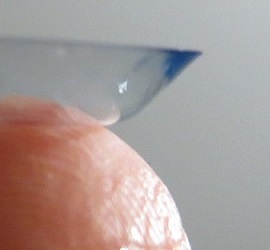 An inverted lens may not be the easiest thing to spot when its in your hand, but when you put an inverted lens in your eye, you notice almost immediately. Not only is an inverted lens very uncomfortable, but the vision can also be quite blurry.
Luckily the fix for this is very easy. Simply remove the lens you suspect may be inside out, flip and re-insert it. To prevent this from happening again, read this article for for 5 ways to tell if contact lenses are inside out.
7. Poor Fit (Colored Contact Lenses)
Color contact lenses have an opaque pattern on the outside of the lenses which gives them their color. The only clear part of a color contact lens is a small circular area in the middle of the lenses. In order for you to see clearly with your color contacts, they must be well centered on your eyes. If they are de-centered in any direction, it will cause you to partially be looking through the paint on the lenses. This will obscure your vision, not to mention that if color contacts are not centered well, it will look very awkward cosmetically.
Unfortunately, if this is happening there is not a lot you can do to fix it. You may have better success with a different brand of color contacts.
8. Corneal Problem
The most serious reason for blurriness with contact lenses is if the contact lenses have began causing health problems for your eyes. For people who over wear their contact lenses against the recommendation of their optometrist, eventually they can develop some complications.
Superficial Punctate Keratitis (SPK) is a condition caused by contact lenses (among other things) that causes your cornea to become more cloudy. There are varying severities of SPK, but if it happens to a large enough extent, it can have a similar effect to looking through a dirty window.
Blurriness due to SPK will not immediately go away once you've removed your contact lenses and switch back to glasses. It can take weeks to months to completely resolve and will require you to be out of contact lenses, and sometimes even take medication eye drops for your eyes.
Please beware, many people who develop significant SPK assume that the blurriness they experience is simply a result of a change in their prescription, and feel no urgency to change the way they use their contact lenses. This causes the SPK to get even worse. If you have noticed any changes in your vision, I recommend you see your optometrist as soon as possible, as the reason is not always what we think it is.
If you have any experience with blurriness with contact lenses, or know of some reasons that I did not cover, please share them in the comments section below.