All over North America, the most common type of contact lenses worn by contact lens wearers are monthly contact lenses. That being case, it worth knowing about all the cheap monthly contact lenses out there on the market. In this article, I will discuss the brands of monthly contact lenses that are most likely to save you money.
Advantages of monthly contact lenses?
Price
The main advantage of wearing monthly contact lenses is that they're the least expensive type of contact lenses you could wear. The price of monthly contact lenses can be as low as $0.15 USD / day. Compared to weekly, bi-weekly or daily lenses, that's quite a bargain.
Convenience
For travelers, monthly contact lenses also have the advantage of being a lot more convenient. All you have to do is carry around 1 pair of lenses and a bottle of solution. Compare that to those who use daily contact lenses, who have to plan the exact number of days that they'll be away, and bring along with them all those contact lenses. This does not allow for any change of plans, as any extension of your trip will result in you running out of contact lenses before you get home.
Create less waste
For the environmentally conscious, though contact lenses don't produce a huge amount of waste, it does add up, especially if you wear daily contact lenses. If you just consider the contact lenses themselves, it may seem insignificant, but every contact lens is packaged in its own plastic blister pack which need to be opened and discarded every single day. Monthly contact lenses last 30 days longer, therefore produce 30 times less waste.
More flexibility of wear
Finally, monthly contact lenses are more conducive to irregular hours of wear compared to daily contact lenses. Monthly contact lenses can be worn for a few hours, then removed, and put back in later in the day. They can be taken in and out as many times as you'd like within a day depending on your day's activities. On the other hand, daily contact lenses are not designed to be removed, stored and used again.
---
Air Optix Aqua – $0.27 USD / day
Air Optix Aqua is one of the most successful monthly contact lenses on the market. It may not be the absolute least expensive lens, but it is definitely affordable and you get a great contact lens for the price.
There are many versions of the Air Optix brand. If you wear Air Optix (and don't sleep with your contacts), make sure you are not buying Air Optix Night & Day. Air Optix Night & Day is more expensive than Air Optix Aqua and is designed for people who are interested in wearing their contacts lenses 24/7 without ever removing them. For most people, this is not possible, so if you're not sleeping with your lenses, there is no reason for you to be wearing Air Optix Night & Day.
Currently at Lens.com, a box of Air Optix Aqua goes for $24.99 USD for a box of 6 contacts. Buying a year supply of these lenses (4 boxes) will cost you $99.96 USD. That works out to only $0.27 USD per day.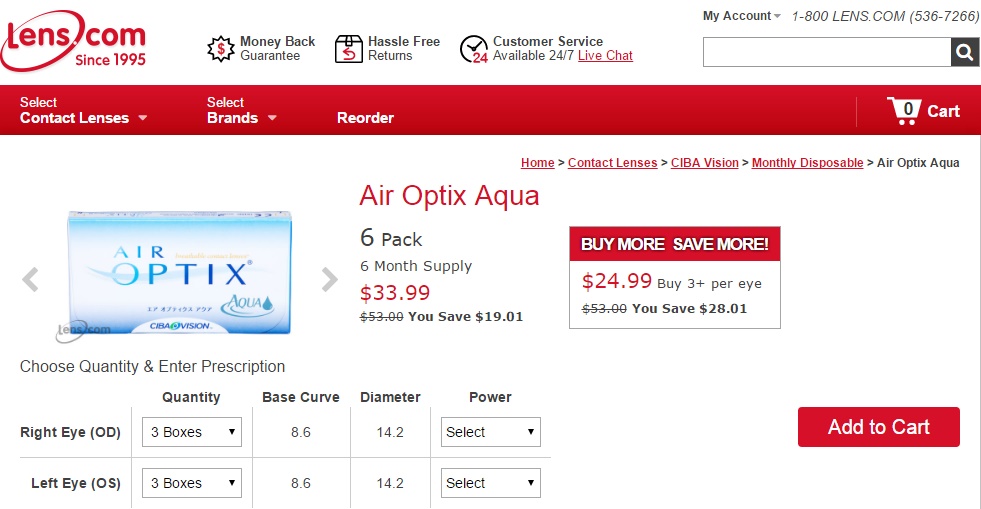 Other versions of Air Optix include Air Optix for Astigmatism, Air Optix Multifocal, Air Optix Colors and most recently Air Optix Plus HydraGlyde.
Air Optix Aqua Reviews:
GREAT DEAL!

I was shocked at what a great deal lens.com had for the Air Optix lenses. 1/3 of the price at the doctors, and 1/2 the price of other online retailers. My lenses came today (days ahead of schedule!) and they seem to be in perfect condition. Very pleased with my decision to go with lens.com!
BEST FIND!

I was looking online for Air Optix contacts that aren't going to cost an arm and a leg for a box of 6. I purchased from the site and that was the best choice I made because they are absolutely perfect, just like you were to pay 58 dollars on them, but instead you're only paying 15 dollars for a box of 6 contacts! I highly recommend buying through this site. It will save you tons of money I promise:)
---
Biofinity – $0.24 USD / day
Biofinity contact lenses are more or less equivalent to Air Optix Aqua in terms or both price and performance. The main distinction between two two is that the Biofinity material is more breathable than the Air Optix Aqua material, but both provide more than adequate oxygen for healthy contact lens wear. Biofinity is a great and inexpensive monthly contact lens.
Biofinity comes in many different versions, including a version for people with astigmatism (Biofinity Toric), presbyopia (Biofinity Multifocal) and for people with very high prescriptions (Biofinity XR).
Currently at Lens.com, a box of Biofinity goes for $21.50 USD for a box of 6 contacts. Buying a year supply of these lenses (4 boxes) will cost you $86.00 USD. That works out to only $0.24 USD per day.
Biofinity Reviews:
GREAT FOR DRY EYES!

I struggled with dry eyes with Acuvue Oasis lenses and my Dr. gave my these lens to try and they have been wonderful. My eyes are a lot less dry after a long day outside.
Worth a try!
NEW CONTACT WEARER

I've never had to wear glasses or contact lens until now. As a new contact wearer my doctor gave me several brands of contacts to try, by far the Biofinity lens worked the best for me. These lens are the most comfortable and clearest for me at this point. Ordering them through Lens.com was the next best thing for me. The cost compared to the doctors office was amazing.
---
Proclear Compatibles – $0.22 USD / day
Proclear contact lenses are made by CooperVision, the same manufacturer as Biofinity, but it is a little bit older in terms of lens design and technology. For that reason, Proclear has now become of the cheapest monthly contact lenses on the market. But don't let its time on the market fool you, this is still considered a very good contact lens. In fact, this older generation of contact lenses is often regarded as more comfortable than the newer generations because of silicone inside the lens material.
Proclear is possibly the biggest family of contact lenses that includes several monthly and daily variations. But among its monthly versions, there is Proclear Compatibles (for simple prescriptions), Proclear Toric (for people with astigmatism), Proclear Multifocal (for people with presbyopia), Proclear Multifocal Toric (for people with astigmatism and presbyopia) and Proclear Torix XR (for people with high levels of astigmatism).
Currently at Lens.com, a box of Prolear Compatibles goes for $19.99 USD for a box of 6 contacts. Buying a year supply of these lenses (4 boxes) will cost you $79.96 USD. That works out to only $0.22 USD per day.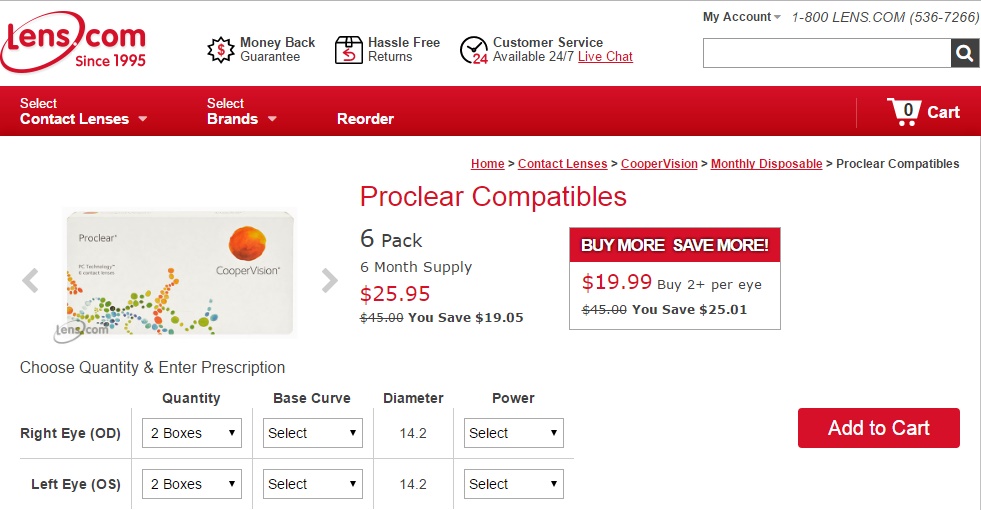 Note: Although Proclear Compatibles is very inexpensive, some of the more specialized versions of Proclear such as Proclear Multifocal Toric and Proclear Toric XR can be pretty pricey.
Proclear Compatibles Reviews:
MOST COMFORTABLE LENSES EVER

After having worn contacts of all types for years I can positively say these are the best ones I have ever worn. I wear them for the full 30 days and then take them out for a night. I have never had any irritation or other problems with these lenses and would highly recommend them to anyone.
PROCLEAR – FANTASTIC CONTACT LENS

Proclear – Fantastic Contact Lens, Last the entire month without issue, Very comfortable. Have never had a problem with these contacts. Won't buy anything else.
---
Soflens 38 – $0.15 USD / day
Soflens 38 by Bausch + Lomb was once a staple brand for monthly contact lens wearers. Bausch + Lomb has since come out with several newer brands of monthly contact lenses, so Soflens 38 is no longer heavily marketed. But it remains a very good, reliable and comfortable monthly contact lens. Not to mention how inexpensive it is.
Currently at Lens.com Soflens 38 sells for $13.99 USD for a box of 6 contacts. Buying a year supply of these lenses (4 boxes) will cost you $55.96 USD. That works out to only $0.15 USD per day.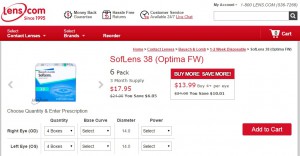 Soflens 38 Reviews:
I'M GLAD I BOUGHT THESE, WILL BUY AGAIN

These SofLens 38 lenses are a great value! Their low price, comfortable design and easy-to-use combination, make them perfect for my lifestyle. I will be re-purchasing these soon!
SOFLENS 38 ARE JUST AS AWESOME AS OPTIMA FW

I found out that SofLens 38 were the replacement for Optima FW, so I quickly made the switch over to them. They fit and worked just as great, and felt just as comfortable on my eyes! Still no dryness or irritation, making them great for all day wear.
---
Saving money on contact lens solution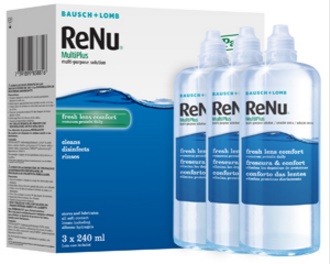 One of the things to keep in mind when budgeting for contact lenses is how much contact lens cleaning solution will cost you over the course of the year. This is often a cost that is overlooked when comparing the prices of monthly and daily contact lenses. But there are ways to save on contact lens solution that won't compromise the health of your eyes.
Ask your eye doctor which brands of cleaning solution are appropriate for your brand of contact lenses. From that list, select the least expensive brand. Many people assume that there's only 1 brand that's safe to use, and often times that's not the least expensive one.
Note: Beware of some cleaning solutions out there. It is important to check with your eye doctor before you switch to any brand of contact lens cleaning solution.
Buy in bulk. Once you've confirmed which is the cheapest brand of contact lens solution that is safe for you, buy the multi-packs which will lower the cost per bottle significantly. If you can't find the multi-packs in the store, don't settle for the expensive individual packs. Check online at places like Amazon.com.
Important Reminder
Although the brands listed above are the cheapest monthly contact lenses, it is important to realize that they are not the same price everywhere. Some websites will charge more, and some less for these brands.
To ensure that you're paying the lowest possible price for your contact lenses, regardless of the brand, be sure to consult a contact lens price comparison site before you make your purchase. At Contacts Advice, I:
Compare prices at the top 11 sites for buying contact lenses online to find you the lowest price
Compare the prices for the top 50 brands to make sure you find the brand you're looking for
Update all prices on a weekly basis to ensure you always know where the lowest prices are
Do you know of any other brands of cheap monthly contact lenses? If so, please share the brand and how it costs in the comments below.