Ever since I launched Contacts Advice, I have been visiting contact lens websites a lot. Every week when I do the price checks for the my Lowest Prices page, I comb through each site and look up a lot of different brands, I see what's on sale, I see how the prices change, and I see how everything is organized.
In this article, I will be providing an AC Lens review, one of my favorite contact lens websites.
Site: AC Lens
Sells: Contacts lenses, contact lens accessories, glasses
Price: Lowest price guarantee
Brands Available: All
Ships to: Worldwide
Conclusion: Best place to buy contacts online
The Layout
---
AC Lens provides visitors with a very easy to navigate layout.
On the homepage, you will immediate find links to the most popular brands on the left hand side, so if you just want to re-order the brand that you already wear, most likely, you'll be able to scan the right hand side widget and find your brand. I like that they use photos here because it makes that much easier for people to find the brand that they're looking for. Throughout my career I have noticed that people don't pay nearly as much attention to the name of their contact lenses, as they do the graphic on the box.
On the right hand side of the home page, there are navigating links to help you drill down and locate the brand you're looking for if it's not one of the most popular brands located on the right hand side of the page. They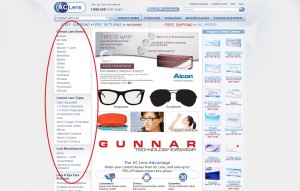 have menus  for the major brand families, for the type of contact lens you're looking for, and for the contact lens manufacturers.
By breaking it up into categories like this, one can easily browse through all the contact lenses they're interested in. For example, if I've been a monthly contact lens wearer my entire life, but I want to try daily disposable contact lenses now, I would just click on 'daily disposable' right from the homepage and be taken to a page that displays all the brands of daily disposables on the market today.
With AC Lens's layout, you are able to find the brand of contact lenses you're looking for within 2 clicks.
And of course, if you know the name of your contacts you can always just use the search bar at the top of the screen.
Free Shipping and Returns
---
AC Lens makes everything simple, including shipping and returns. How do they do it? They make it free.
Shipping is free for all regular ground shipping to anywhere in the USA and Canada via USPS First Class Mail. Your order is typically shipped from their warehouse within 48 hours of your order and arrives to you within 5-7 days for USA residents, and about 7-14 days for Canadian residents. For more information on AC Lens' shipping policy, click here.
As for returns, AC Lens give you 30 days from the purchase date to make a return. If you wish to return your purchase, you must contact AC Lens via phone or e-mail and request a return. You will then be sent a 'Return Merchandise Authorization' code and USPS postage label so that you can ship it back for free. Ac Lens will either give you a full refund or an exchange for a different product. For more information on AC Lens' return policy, click here.
Price Match Guarantee
---
Here at Contacts Advice, finding you the lowest price for contact lenses online is my business. If you consult my Lowest Prices, you will notice that there is no 1 site that has all the lowest prices. AC Lens offers to price match the price found on any other online contact lens retailer's website. All you have to do is call or e-mail ACLens's customer service, let them know where you found contacts for cheaper, and they will price match for you.
The way the process works is you either call or e-mail them and tell them where you found the lower price for you brand of contacts. You will go through check-out at the price posted on AC Lens but they will automatically adjust the price for you when they process the order. So on your credit card statement, you will see the price-matched price.
Trustworthiness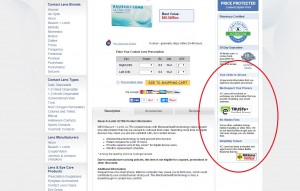 ---
AC Lens has been operating for over 15 years, that is much longer than most other online contact lens retailers. AC Lens has a solid privacy policy to protect your personal information, and encrypts all the data is collects to ensure that it is safe and secure.
AC Lens has been vetted and approved by TRUSTe, which is a data privacy management company that helps businesses adhere to online privacy best practices. AC Lens has also passed the Better Business Bureau Online Reliability Program, which is a program designed to ensure that online merchants adhere to policies which help elevate customer experience to the highest levels.
Live Chat
---
I have used AC Lens' live chat many times to ask them how their price match guarantee works, how their shipping policies work, etc. Live chat is always available and the live chat agents are very friendly, patient and offer clear and concise explanations.
Overall Impression
---
To me, AC Lens is the best place to buy contact lenses online. It has everything that I would look for in a website to buy contact lenses from. It is easy to navigate, simple to use, trustworthy, and extremely customer service oriented. I haven't explored the part of their website that sells glasses very much, but as far as their contact lens business, AC Lens is top notch.