What is GlassesUSA.com?
GlassesUSA.com is now selling contact lenses. If you're not familiar with GlassesUSA.com, it is an online glasses retailer that propped up in 2008 an grew to become on of the leading online glasses store. Their mission is to make eye-wear available to everybody without breaking the bank. It offers both designer brands as well and in house brands to fit pretty much everyone's budget and style.
GlassesUSA.com Now Selling Contact Lenses
Why has GlassesUSA.com decided to now start selling contact lenses? Daniel Rothman, GlassesUSA.com's CEO says:
"As a leader in online prescription glasses, we understand the importance of affordable eyewear for our consumers, and are very proud to extend that value proposition to contact lens wearers as well."
Whenever there is a new retailer of contact lenses on the market, it is very exciting for ContactsAdvice, because our mission is to uncover sources of the lowest price for every contact lens brands, so that you, the contact lens wearer, always pay the lowest price possible.
I already have a contact lens price comparison chart on my homepage that compares the top 50 contact lens brands across the top 10 online contact lens retailers. When I heard the news that GlassesUSA.com was now selling contact lenses, I was excited to see how they would compare.
If as Daniel Rothman, CEO of GlassesUSA.com says is true…
"Our goal is to be the leader in the online vision industry and we will continue to look for product expansions that allow our customers to get a great value for their buck without compromising on quality and service."
… Then we might just have new top contender for the site with the lowest prices for contact lenses on the internet.
How Expensive Are Contact Lenses at GlassesUSA.com?
Let's take a look: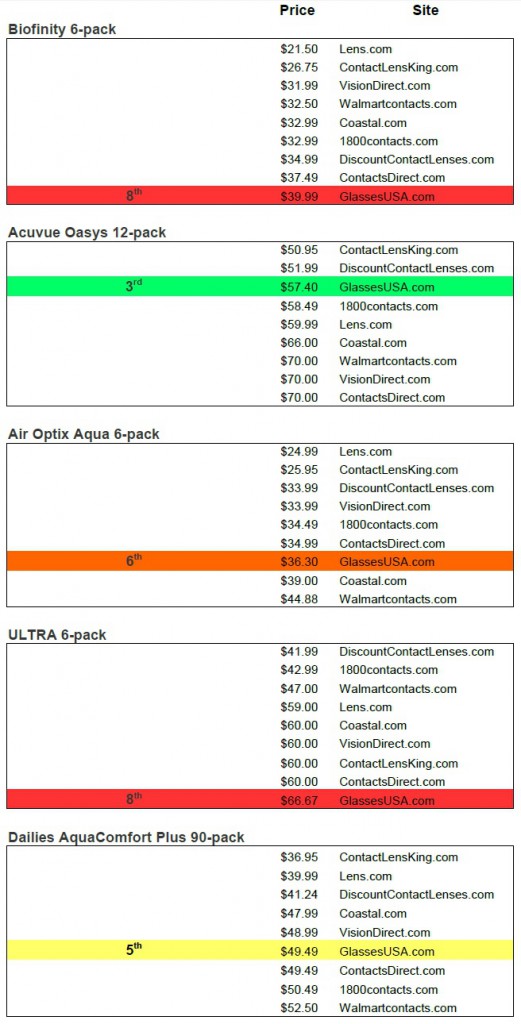 I will compare 5 different brands and see how GlassesUSA.com compares with other online contact lens retailers.
The brands will be:
Biofinity 6-pack
Acuvue Oasys 12-pack
Air Optix Aqua 6-pack
ULTRA 6-pack
Dailies AquaComfort Plus 90-pack
The follow graphic shows prices for all of the above brands at the following websites:
GlassesUSA.com
VisionDirect.com
1800contacts.com
Coastal.com
ContactsDirect.com
WalmartContacts.com
ContactLensKing.com
Lens.com
All prices were taken on the day of the announcement by GlassesUSA.com – February 8th, 2017.
Results
As you can see from the table, GlassesUSA.com did not fair very well when it comes to offering the lowest price.
For Biofinity 6-packs by CooperVision and ULTRA 6-packs by Bausch & Lomb, they actually had the highest price of all the websites.
For Dailies AquaComfort Plus and Air Optix Aqua by Alcon, GlassesUSA.com placed 5th and 6th respectively. That's not the worse price, but it's far from the best.
For Acuvue Oasys 12-packs, it placed 3rd, which is pretty decent.
Overall, based on the results of my research I would conclude that GlassesUSA.com is not a great place to purchase contact lenses online. Their prices just don't compete with other sites such as DiscountContactLenses.com, ContactLensKing.com and Lens.com.
Take Away Message
The chart on the right is perfect example of how the online contact lens industry operates. There is no single site that offers the best price for every single contact lens brands. Certain sites offer the lowest price for some brands, while over-charging considerably for others.
The only way to know where all the lowest prices for every contact lens brand can be found is a contact lens price comparison websites such as Contacts Advice. If you want to know where your brand can be purchased at the lowest price possible, consult Contacts Advice's Price Comparison Chart here.
How is GlassesUSA.com for Glasses?
They certainly have a vast selection. GlassesUSA.com offers popular brands for men, women, and children. Some of their brands include:
Adidas
Amelia E.
Armani Exchange
Arnette
Bolle
Brooks Brothers
Calvin Klein
Carolina Lemke
Chloe
Converse
Diane Von Furstenberg

DKNY
Guess
John Varvatos
Jones New York
Just Cavalli
Karl Lagerfeld
Kenneth Cole
Lacoste
Lucky Brand
Michael Kors
Muse

Oakley
Ogi Eyewear
Ottoto
Ray-Ban
Spy Optic
Timberland
Tom Ford
Tumi
Vogue
William Rast
As far as prices go, if you're not concerned about fashion, there are cheaper glasses websites if you're just looking for a bare-bones pair of glasses. Otherwise, if you find a frame you really like at GlassesUSA.com, you could get a pretty good price on it. Certainly better than at your eye doctor's office. However, I would recommend waiting until an online sale takes place. Online retailers are constantly running sales to try gain new customers and to move out old stock.
If you want to be alerted when GlassesUSA.com and dozens of other sites have glasses and contact lens sales, sign up for my monthly newsletter. You'll only get 1 email per month from me, but you could save hundreds!
What is your favorite site for ordering glasses and contact lenses? Let me know in the comments below.
Cheers,
Julie