There are now more places than ever to buy contact lenses. If you combine both online and offline sources, you have no less than hundreds of different options. So how do you know what the best place to order contact lenses is?

Not in-store
If you're wondering what the best place to order contact lenses is, right off the bat you can eliminate pretty much every physical store.
Not Your Eye Doctor's Office
It will come to no surprise to you to learn that your eye doctor inflates the prices of contact lenses in order to turn a profit.
What you might not know is that with your contact lens prescription, regardless of where you get them from, you can get the exact same contact lenses that you would get from your eye doctor's office.
So if you could get the exact same product, but at a much lower price, why wouldn't you?

Not Other Brick-and-Mortor Contact Lens Retailers
So we know that your eye doctor over-charges for contact lenses, but what about other stores likes discount opticals and big box stores?
They might be able to cut you a slightly better deal than your optometrist, but the reality is that they are also just middle men between you and the contact lens manufacturers. And as we all know, middle men need to make a profit otherwise they wouldn't be in business.
The bottom line on brick-and-mortor stores is that they have to jack up prices in order to cover costs of rent, building insurance, utilities, employees, etc., etc. And then they also take their cut, all of which leaves you paying much more than you need to.
If you don't want to pay for all of those needless expenses, you have to start shopping for your contact lenses online.
Sponsored Links




Online is The Best Place to Order Contact Lenses
Price-wise, you can't beat buying your contact lenses online. Online contact lens retailers are still middle between you and the contact lens manufacturers, but they don't increase the price of contact lenses nearly as much as physical stores do.
How are they able to offer such low prices on contact lenses? It's because operating a website is a lot less expensive than operating a brick-and-mortar business. There are fewer employees to pay, no rent, no building insurance, no utility bills, etc.
If you've never ordered contact lenses online before, you might have reservations about how to order them to make sure you get the right thing. Ordering contact lenses online is actually very simple, and made fool-proof in many ways. To learn more about how to order contact lenses online, click here.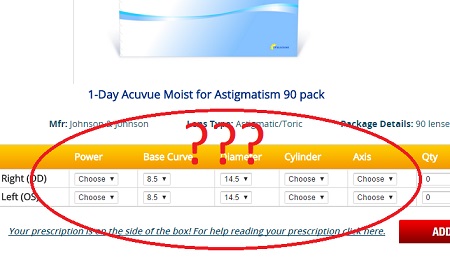 Best Place to Order Contact Lenses Online
Here's the issue with ordering contact lenses online: The internet is a giant place and it can be hard to weed out the good sites from the not-so-good sites.
Caution: Just because a website spends lots of money on advertising, doesn't mean that they're the best place to order contact lenses online.
In fact, for the vast majority of contact lens brands, the most well-known contact lens websites are not the cheapest!
The Real Issue
The real issue is where to buy cheap contact lenses online. The reality is that there is no single best place to buy contact lenses online for every single brand.
Some websites might have the lowest price for certain brands, but they will massively overcharge for other brands.
If you don't know which website has the lowest price for the brand that you're looking for, you might be paying as much as you would at your optometrist office (or more!).
The Solution
To avoid overpaying for your contact lenses, and only pay the absolutely lowest amount for your contact lenses, you must first consult a contact lens price comparison site.
A good contact lens price comparison site will price shop all the contact lens websites for you and tell you what site sells your brand for the lowest price.
Contacts Advice IS The Internet's Best Contact Lens Price Comparison Site
Here at Contacts Advice, I personally do weekly price checks at the top contact lens websites for over 50 different brands of contact lenses.
That's over 500 price checks per week to make sure that you pay as little as possible when it comes to ordering your contact lenses.
Finding the Lowest Price is Easy
2. Scroll down until you find your brand of contact lenses (brands are organized by manufacturer, and a picture of the box is included for easy recognition)
3. Beside your brand, the lowest identified price is listed as well as a link to the website that has that price
How is Contacts Advice Different?
| | |
| --- | --- |
| | |
| Only compares 3-4 sites | Compares 11 websites |
| Rarey (if ever) update prices | Updates prices weekly |
| Only compares select brands | Compares the top 50 most popular brands |
The contact lens industry is huge, and there are a lot of businesses trying to take advantage of people's misconceptions about prices.
Never overpay for contact lenses again.