Goodbye VisionDirect.com and LensMart.com
If you're looking for VisionDirect.com contact lenses, you are going to have a very hard time finding them. As of May 19th, 2017, VisionDirect.com completely shut down and started redirecting all of its URLs to Walgreens.
Coincidentally, the exact same thing happened to LensMart.com, which of course means that it was not a coincidence at all.
What was the relationship between VisionDirect.com and LensMart.com? They were both owned by DrugStore.com, which was in turn owned by, you guessed it, Walgreens.
Were VisionDirect.com and LensMart.com the same? Well, not quite. Although they both used the same ordering system and shipped from the same warehouse, their prices were slightly different on some brands, LensMart.com usually being the more expensive of the two.
Going back and comparing the prices between VisionDirect.com and LensMart.com for a few months, it seems in fact that most of their prices were identical. Out of the 50 brands that I price check, VisionDirect.com and LensMart.com had identical brands for 43 of those brands.
VisionDirect

.com

NOT

VisionDirect

.co.uk

I just want to point out that this article is about VisionDirect.com, and not VisionDirect.co.uk. Although they share a very similar name, they are two completely different websites with no affiliation.
While VisionDirect.com is now just a part of history, VisionDirect.co.uk is very much still operational, and in fact, can offer something that very few other websites can.
At VisionDirect.co.uk, you can order contact lenses from the United States without having to provide your up-to-date contact lens prescription. Click here to learn about ordering contact lenses from VisionDirect.co.uk.
Were VisionDirect.com and LensMart.com Successful?
Of course, I don't have information about their sales, but anyone can look up the web traffic that each site was receiving.
LensMart.com Traffic
LensMart.com was clearly the less popular out of the two websites.
According to the online traffic website SimilarWeb.com, Lens Mart was only receiving 32,000 visitors per month, only 15% of which was from the United States.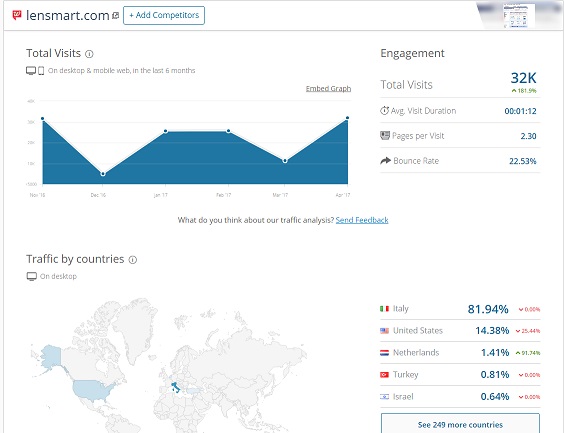 VisionDirect.com Traffic
VisionDirect.com however, received much more traffic compared to Lens Mart. I would be quite surprised if VisionDirect.com wasn't making very good profits.
According to SimilarWeb, VisionDirect.com was getting 352,000 visitors per month, 86% of which were from the United States.
That amount of traffic would be the envy of any online business and clearly took many years to build.
So what happened?
Well, there was definitely a fair bit of redundancy for Walgreens if VisionDirect.com, LensMart.com and Walgreens all sold the exact same contact lenses. I suppose it just made sense for them consolidate and streamline their contact lens business into 1 single website.
Consolidating more than just contact lenses
As previously mentioned, Drugstore.com is now redirected to Walgreens, as well as Beauty.com which Walgreen acquired 5 years ago. For more background information on the complexities of all the acquisitions, read this article.
Although I've never personally visited Drugstore.com or Beauty.com before they went down, I assume that there was some redundancy there too with Walgreens. So now Walgreens is your giant one-stop online shop for all of those products.
Take a look at how much traffic this mammoth of a website receives monthly.
Yeah, that's almost 30 million visitors per month, and now that VisionDirect.com, LensMart.com, DrugStore.com and Beauty.com (and more?) are being funneled to Walgreens.com, it will probably climb even higher.
Ok, so Walgreens is arguably the biggest contact lens website on the internet. But does that make it the best place to buy your contacts? With all due respect to them, they're not (and by a long shot!).
Best Place to Shop for Contacts?
Nope, it's not Walgreens (and it was never VisionDirect.com or LensMart.com either).
I have been doing contact lens price comparisons for years to uncover where the lowest price for each brand is found. Prices at VisionDirect.com, LensMart.com and Walgreens were never the lowest for any brand.
Generally, the lowest prices are spread between a few sites such as Lens.com, DiscountContactLenses.com, ContactLensKing.com, ACLens.com, PriceSmartContacts.com, and a few others. To find out which website has the lowest price for your brand, consult Contact's Advice's homepage, the internet's most comprehensive and up-to-date contact lens price comparison site.
Here at Contacts Advice, I personally do weekly price checks at the top 11 contact lens websites for over 50 different brands of contact lenses.
That's over 500 price checks per week to make sure that you pay as little as possible when it comes to ordering your contact lenses.
Finding the Lowest Price is Easy
2. Scroll down until your find your brand of contact lenses (brands are organized by manufacturer, and a picture of the box is included for easy recognition)
3. Beside your brand, the lowest identified price is listed as well as a link to the website that has that price
How is Contacts Advice Different?
| | |
| --- | --- |
| Other Contact Lens Price Comparison Websites | Contacts Advice |
| Only compares 3-4 sites | Compares 11 websites |
| Rarey (if ever) update prices | Updates prices weekly |
| Only compares select brands | Compares the top 50 most popular brands |
Contact lenses are a huge industry, and there are a lot of businesses trying to take advantage of people's misconceptions about prices. Never overpay again.