PRECISION 1 ONE-DAY CONTACT LENSES
Alcon is doing it again! We're getting a brand new line of daily disposable contact lenses by the contact lens giant called PRECISION 1 ONE-DAY CONTACT LENSES.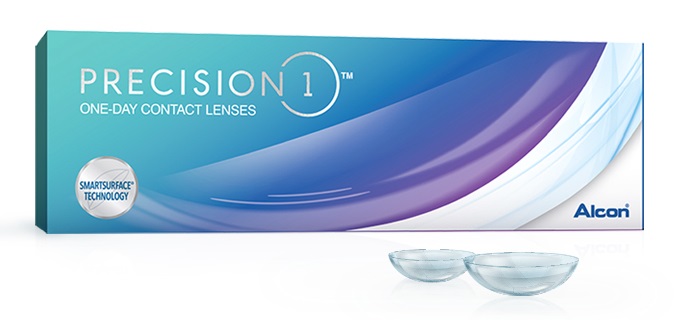 As of now (November 2019), Alcon is in the very early stages of launch of this product. In this article, I will discuss what is current known about this new brand.



Why Make PRECISION 1 ONE-DAY CONTACT LENSES?
Alcon already boasts a very large portfolio of contact lenses of all types. They have monthly contact lenses, daily contact lenses, contact lenses for astigmatism, multifocal contact lenses, color contact lenses, etc. So why create PRECISION 1? What makes it different?
Alcon looked at study that set out to identify the most common reasons that lead to new contact lens wearers dropping out of contact lenses. They found that the top 3 reasons for this were:
Problems with vision
Problems with comfort
Problems inserting and removing the lenses
This data was taking form the study by Sulley A, Young G, Hunt C, et al. titled "Retention rates in new contact lens wearers."
With this in mind, Alcon developed a contact lens to address these problems with the goal of preventing preventing contact lens drop-out by new contact lens wearers. As you can see, all 3 points are addressed in this promotional info-graphic.
Quality of PRECISION 1 ONE-DAY CONTACT LENSES
Silicone Hydrogel
PRECISION 1 contact lenses are made from a brand new silicone hydrogel contact lens material called verofilcon A. In the past decade or so, silicone hydrogel contact lens materials have become the standard for healthy, breathable contact lenses.

SMARTSURFACE TECHNOLOGY
PRECISION 1 contact lenses are first to be treated with Alcon proprietary SMARTSURFACE TECHNOLOGY.
Contact lens companies rarely give in-depth explanations about how their proprietary technology actually work. In this case, Alcon explains it this way:
UV Blocking
PRECISION 1 contact lenses have Class 1 UV blocking properties. That means that it block >90% of harmful UVA and >99% of harmful UVB light rays.
It is important to note that although Class 1 is the highest class of UV protection in contact lenses, it still does not substitute for wearing proper sunglasses when you're out in the sun.
Learn more about the negative effects of UV light on the eyes.
How does PRECISION 1 compare to Alcon's other daily disposable contact lenses?
Alcon seems to be positioning the PRECISION 1 brand as an affordable high-quality contact lens. It's not as high-end as their premium brand DAILIES TOTAL 1, but a better, more comfortable option than their value brand DAILIES AquaComfort Plus.



Who are PRECISION 1 ONE-DAY CONTACT LENSES for?
Alcon is heavily marketing PRECISION 1 contact lenses at brand new contact lens wearers. They want eye doctors to recommend this PRECISION 1 to all of their patients interested in trying contact lenses for the first time.
You can see this reflected in this promotional graphic: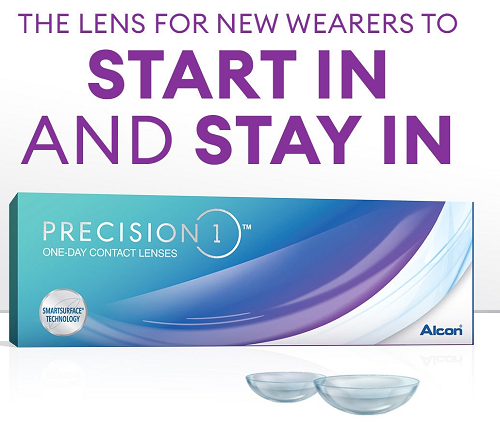 Is it for people with astigmatism?
For now PRECISION 1 contact lenses are not available for people who require astigmatism correction.
This is the care for virtually all contact lens brands when they first launch. If the PRECISION 1 does well and there is demand for a toric version, we will probably see it come out in the near future.
And presbyopia?
Again, since PRECISION 1 is a new brand it does not have a multifocal version. Multifocal versions of contact lenses don't typically come about unless the regular version of the brand has proven to be successful on the market. Time will tell for PRECISION 1.
What are the available parameters?
PRECISION 1 ONE-DAY contact lens are available for people who have nearsightedness and farsightedness. Here are the available parameters:
Material
Dk/t (breathability)
Water Content
Base Curve
Diameter
Power
verofilcon A
(silicone hydrogel)
100 (very breathable!)
51%
8.3
14.2
-12.00 to +8.00
Price of PRECISION 1 ONE-DAY CONTACT LENSES?
As is the case with all contact lenses, the price varies depending on the outlet. Of course, once it's been rolled out the cheapest place to purchase them will be online. But even then the price will vary from website to website.
Rest assured that Contacts Advice will be comparing the price of PRECISION 1 contact lenses across all contact lens websites to find the lowest price for you.
Generally speaking the price will be somewhere between that of DAILIES AquaComfort Plus (~$30 USD per 90 pack) and DAILIES TOTAL 1 (~$60 USD per 90 pack).

Where are PRECISION 1 ONE-DAY CONTACT LENSES available?
As of early 2020, PRECISION 1 contact lenses will be available in Australia, New Zealand and the United States. For those living outside of those areas, Alcon does plan to expand to other countries as well throughout 2020 and 2021.
What's your experience PRECISION 1 ONE-DAY?
If you've tried PRECISION 1 contact lenses, I would love to hear your experience with them. Feel free to share your thoughts about them in the comments section below!
Shopping for contact lenses
Whenever you're shopping for contact lenses, whether it's for PRECISION 1 ONE-DAY or any other brand, it's important to locate the lowest price first.
The internet is big place and contact lens websites love to overcharge for contact lenses because most people assume that contact lenses are the same price on every website. This is far from true!
Contacts Advice price shops all the contact lens websites to make sure contact lens wearers always know where to find the lowest price for their brand.